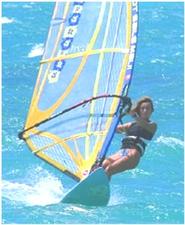 Person Price:
$182.29
-
Members Price:
$164.06
Action Sports Maui is a full service windsurfing school, located at Kanaha Beach on Maui's north shore.
Young children 5years and above will love the Kid's "Youth Power Windsurfing" 3-day Camps. This is the original Maui Kids windsurfing Camp running for over ten years. We proudly sponsor these events, Wednesday thru Friday. Run Weekly in summer young children are sharing their first experiences in windsurfing. The emphasis is on fun, & learning in a social atmosphere. Children will share equipment in small groups. They are taught be young instructors and their peers, while under adult supervision. Lessons run in the mornings for the lighter winds. and run for three hours including snacks and drinks. Kids will do practical lessons, games, some class work, and receive a certificate of completion, on graduation day. This program is very popular and bookings are recommended. Children should supply their own life vests, and reef shoes. Students use a range of specialized children's equipment, which is essential to the process. The kids camp was created by windsurfing families and windsurfing parents to create the ideal children's windsurf experience in a fun atmosphere. More advanced kids can do the all day extended camp that goes till 2:30pm. The afternoon session typically has more wind and we work of more advanced techniques.
Please print out your booking information and bring it with you. Call to re-confirm your appointment the day before your lesson 808-871-5857.