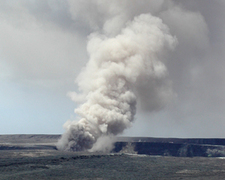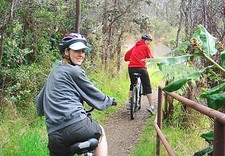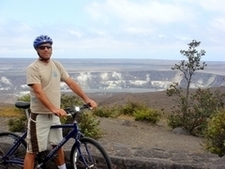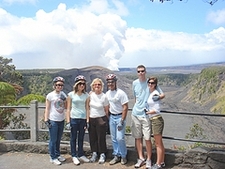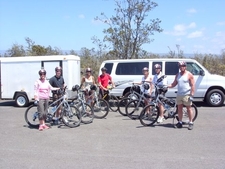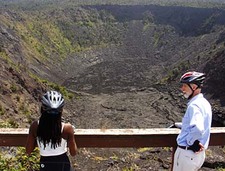 Cyclist Price:
$129.00
-
Members Price:
$129.00
Kama'aina Cyclist Price:
$124.00
-
Members Price:
$124.00
Van Rider Price:
$119.00
-
Members Price:
$119.00
Join BikeVolcano.com on an amazing guided bicycle tour of the Hawaii Volcanoes National Park on the Big Island of Hawaii, as we will explore Kilauea Volcano from Summit to Sea. We will provide you with all the equipment necessary for your adventure, in addition to lunch and beverages, a Professional Interpretive Guide, and van support. Bike Down an Active Volcano!!!


Your exciting day begins at the Summit of Kilauea, which is currently erupting. You will bike around the rim of this erupting crater on off road trails and paved roads. Here you will get a chance to "Feel the Heat" of the volcano as you stand next to the Steam Vents.


Periodically throughout the tour your interpretive guide will share geological, mythological, and botanical information with you. After leaving the summit crater you will head through the lush ancient Hawaiian rain forest. Here you will see the incredible Kilauea Iki Crater and take a short hike through the rain forest to the famous Thurston Lava Tube as you are serenaded by native Hawaiian birds.


Our journey continues as we head down the Chain of Craters Road, where you will see a variety of pit craters and lava trees. See dynamic panoramic views of the ocean and lava landscapes as we travel the last four miles to the ocean by van. Enjoy the sea breeze as we serve you a delectable lunch ocean side and if Madame Pele (the Volcano Goddess) allows, you will see the active lava going into the Pacific Ocean.


Bike as much or as little of this breathtaking tour, our support van will always be close by. Fun for the whole family, children are welcome on our tours.


Book Your Tour Now at: www.bikevolcano.com or call us toll free at: 1-888-934-9199.