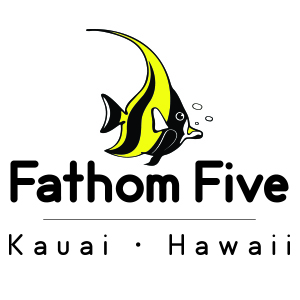 Phone: 808-742-6991
Toll Free: 800-972-3078
Year Established: 1995
Aloha! Welcome to the undersea world of Fathom Five Divers and Ocean Quest Watersports on the beautiful island of Kauai! Serving you for 25 years. Your premier Kauai SCUBA diving facility! Come down to the shop and check us out. We have delicious pastries and coffee at the dive shop every morning!
ACTIVITIES:
We are an official PADI eLearning school! Why return home after vacation with just memories and a sunburn when you could return home with a PADI open water certification and a whole new appreciation of the underwater world?

Fathom Five and PADI eLearning is an excellent way for a new diver to study at their own pace and on their own time schedule while also getting to finish up your education in a beautiful dive spot like Kauai. PADI eLearning is internet based (online) course work that you can access from anywhere via the world wide web.

With PADI eLearning, you can sign-up and complete the knowledge-based dive training from the convenience of your home, office or on the road, 24 hours a day, seven days a week. PADI?s eLearning system gives you the flexibility to study course material at your own pace. During the course, you can access the support of a PADI Professional at Scuba Center by email or phone to get guidance and help about the topic you are studying.
Cancellation Policy: Check here to acknowledge our 24 Hour Cancellation Policy. **48 HOUR CANCELLATION POLICY ON NIIHAU**