Phone: 808-896-1499
Year Established: 2013
Come join our Ohana (family) on the Pueo Kai, our 30 foot power catamaran, for a private or semi private charter. We offer a number of different packages to take advantage of all the Kona Coast has to offer. A great fit for small group, Pueo Kai becomes your private ocean adventure, exploring the coast and having time to pursue your personal interests. Our boat is yours for the day and you are treated like family. Locally owned and operated, Hawaii Oceanic, will give you, your family or group memories to last a life time! We serve a variety of snacks and drinks, including healthy minded ones.
ACTIVITIES: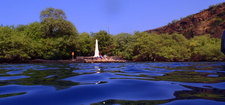 THE KONA
Experience the incredibly clear water of Kealakekua Bay!
Recommended for beginner-advanced snorkelers/swimmers.

The Kona is one of our most popular tours. We have two tours, one with a check in time of 6:45am a second later trip with check in of 10:15am.

Both cruise from the harbor out into crystal clear blue waters while sipping on freshly brewed Kona Coffee and snacking on a selection of tasty treats. While underway, the crew will point out interesting features along the coastline. South Kona has a bevy of historically significant Hawaiian Heritage sites, full of mana (spiritual power).

Staying close to the Kona coast as we travel south towards Kealakekua Bay, we watch closely for any interesting marine life. We may stop the boat to enjoy the Hawaiian Spinner Dolphins (Stenella longirostris) putting on a show. They rest close to shore during the day and will sometimes interact with the boat. December to April is Humpback whale (Megaptera novaeangliae) season in Hawaii, and we will look for Humpbacks. Seeing a breaching Humpback is an experience like no other! After a brief show from the dolphins, and whales and whatever else of interest along our way, we arrive at the world famous Kealakekua Bay, site of the Captain James Cook monument.

Your crew will share with you some of the fascinating history and legend surrounding Kealakekua Bay Historical District. The name roughly translates to ?Pathway to the Gods,? and the impressive pali (cliff face) in the bay once served as a burial ground for the Hawaiian Ali?i (royalty). Large fishing villages flourished on both the north and south ends of the bay in the 1700s, with several thousand Hawaiians inhabiting the area. Many ali?i chose to live in this area, because it was believed to be the burial site of Ke?ua Nui (considered to be the Father of Kings).

Captain James Cook and his men made landfall in the HMS Discovery and Resolution in January of 1779. The villages were celebrating Makahiki, a festival to honor Lono, the god of fertility. Makahiki was a time of peace and aloha. Because of the coincidental timing of their arrival, Cook and his men were viewed as demigods and accepted as guests allowed to stay in the village for several weeks. Cook?s men traded goods with the Hawaiians, who were fascinated with the white mans use of iron. It is suspected that Cook and his men exploited the Hawaiians generosity and over-stayed their welcome. One of Cook?s men died and the first documented Christian service was performed in Hawaii for his funeral. This exposed Cook and his men as mere mortals, and tensions began to rise. Cook and his men decided to leave after Makahiki.

Two weeks out to sea, the foremast of the Resolution was damaged during a storm. Cook and his men were forced to return to the safe harbor of Kealakekua Bay. This time they were met with hostility and animosity. Cook tried to find the supplies to repair his ship, but received no assistance from the Hawaiians. It is rumored that a band of natives stole a small cutter ship and Cook, in retaliation, attempted to kidnap King Kalaniopu?u (the ruling king of Hawaii island). Cook was killed in the skirmish that ensued and eventually the monument was erected in 1874, on the spot of his untimely demise.

Kealakekua Bay marine life conservation district is a federally protected park, and entry to this natural reserve is limited to only boats with permits to operate within the bay. Hawaii Oceanic is pleased to be included among the boats that offer our guests the experience of snorkeling in this pristine marine reserve. Because it is a protected park, the coral reef and abundant marine life is second to none. Your crew will guide you through the calm waters, pointing out several varieties of colorful marine life you might encounter. Some exciting finds may include the color-changing trumpetfish (Aulostomus chinensi), the schools of cheerful yellow tang (Zebrasoma flavescens), the fearless black triggerfish (Melichthys niger), the brightly colored parrotfish (Scarus rubroviolaceus), the shy white mouth moray eels (Gymnothorax meleagris), the elusive octopus (Octopus cyanea), and many more! Keep your eyes peeled for the state fish of Hawaii, the humuhumunukunukuapua?a (Reef triggerfish, Rinecanthus rectangulus) and a rare endemic inhabitant, the lauwiliwilinukunuku?oi?oi?ele?ele (Black long-nosed butterflyfish, Forcipiger longirostris) who is only found in Kona waters.

Because of the protected nature of the bay, the hard, rocky corals native to Hawaii are able to flourish. Winter storms and swell do not disturb the fragile corals growing within Kealakekua Bay. You will see some incredible varieties of corals dotting the reef, such as rice, lobe, or finger corals, all displaying some spectacular colors. The different textures of the coral provide safe havens for all manner of marine life. Please keep in mind that coral, despite looking very much like a rock, is very much alive. It is very sensitive to even the slightest disturbance, from fin kick to fingers. We will do our best to not touch the coral so that future visitors to the bay can enjoy the same vivid seascape.

After snorkeling in Kealakekua Bay for about and hour and a half, we start heading back to the harbor while keeping an eye out for more exciting marine life we may encounter on the way home. After all, you never know what you might see out there! You are assured a first rate Hawaii Oceanic adventure on Pueo Kai (great fit for small group) - our goal is to make your day exceptional on the beautiful Kona Coast! All snorkel gear is provided, (fins, mask, snorkel), as well as snacks, beverages, and complimentary photos of your trip.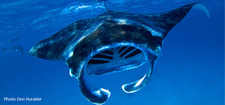 Congratulations on booking with a Green-Listed Manta Ray activity provider! We are proud to say that our crew members are certified Manta Ray naturalists, certified by the state of Hawaii.

We offer two trips, one with a check-in time of 4:30 pm and a later departure trip with at check-in time of 8:00 pm. These times are firm, it's impossible to check in late to a boat that has left the harbor.

Both leaves the harbor shortly after check-in on the Pueo Kai 1 or Pueo Kai 2.

Manta Rays are gentle giants with no teeth, barbs, or stingers. Manta Rays filter plankton from the water as their source of food. Lights are placed in the water to attract the plankton which in turn attracts the Mantas.

Come experience the magic of these gentle creatures as they perform an underwater ballet, doing barrel rolls under you, just inches away! Kona Manta Rays can be 6 ft to 18 ft, wing tip to wing tip. They can weigh over 1000 lbs, yet gracefully glide through the water, serenely in search of their dinner, in front of our light source.

Hawaii Oceanic will give you a premium vantage position to experience the Manta Magic on the Kona Coast, accompanied by a swim guide with you in the water.

After enjoying the Mantas for 45 minutes to an hour, we board Pueo Kai and make our way back to the harbor. Manta Ray sightings are a 95% success rate.

This adventure should definitely be in your Top 10 list of lifetime activities - it's that incredible!

Beverages, snacks, and complimentary photos included, as well as all gear.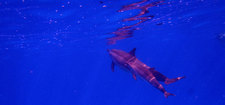 Dolphin Dreaming is all about Hawaiian Spinner Dolphins. Check-in time at the Honokohau Harbor at 6:45am. Hawaiian Spinner Dolphin get their name from the way they launch themselves out of the water into the air doing thrilling spins and flips.

We cruise the gorgeous Kona Coast keeping an eye out for these magical creatures until we reach our morning swim/snorkel destination. Upon arrival, everyone on the boat will be given a briefing on how to swim with the Dolphin. Showing them the utmost respect, you will enter the water accompanied by your Swim Guide, to swim and observe these magnificent creatures in their habitat.

Your guide will also take complimentary photos of you and the Dolphin. We are an eco minded company, and the Dolphin's well being is always our first priority.

We return to the harbor around 10:30am.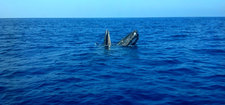 Whale season in Hawaii starts on December 16th and ends on May 15th. This is a seasonal tour.

The Humpback is a two hour Whale Watch Tour. We depart the harbor at 1 p.m. and cruise the beautiful waters of the Kona Coast, looking for Humpback Whales. Humpbacks are in Hawaiian waters during the winter months to calve and mate.

Since Pueo Kai is a great fit for small group, with each ocean adventure, you have all the room and space you need to enjoy these magnificent creatures. To witness them breach is spectacular! Observing the gentle giants taking care of their newborn calves is nothing short of amazing!

During the season, whale sightings are a 99% success rate with Hawaii Oceanic on the Pueo Kai.

We will return to the Harbor at around 3pm after an awesome adventure with the humpbacks.

Snacks, beverages, and complimentary photos provided.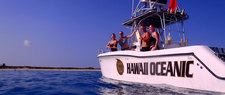 6:45am Check in

The Private Explorer is for a group or family that want the Pueo Kai to themselves. At Hawaii Oceanic we specialize in making our boat yours. The most popular Private charter is a Hawaiian Spinner Dolphin snorkel, (dolphin swim). Swim with wild pods of Dolphin in their natural environment.

You chose the activities that suit your interests, there are many options from which to choose or perhaps a combo. Swim with Dolphins -Kealakekua Bay Marine Reserve Reef and Captain Cook Monument - Snorkel - Look for Whales - Secluded Beaches - We also offer a special package for a secluded beach wedding proposal. A table for two on the beach, with champagne and fruit, for a proposal to never be forgotten.

The Private Charter departs at 6:50am and returns around 10:30am. For the Dolphin Swim, a crew member/swim guide will accompany you in the water at all times.

For the ultimate Hawaii ocean adventure, book THE PRIVATE EXPLORER!

After your inquiry about the Private, we will contact you for the specifics of exactly what your group or family want to do for your private ocean experience. Our goal is to make it the highlight of your visit to our beautiful Big Island! With life long knowledge and experience of the Kona Coast, Captain Jason and his crew will insure that this will become a treasured memory for a lifetime for you and yours.

Beverages, snacks, and complimentary photos included, as well as all gear.

Pueo Kai is yours for your custom Private Charter for $1050 for the half day trip.
Come explore with HAWAII OCEANIC!
6 passenger maximum for your ultimate ocean adventure!
Cancellation Policy: Reservations must be canceled at least 36 hours to date of activity to receive a refund.