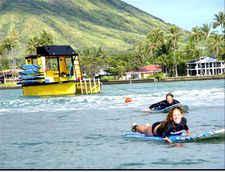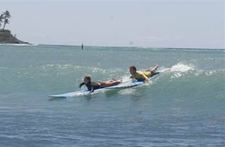 Observer Price:
$26.17
-
Members Price:
$26.17
RIDER Price:
$93.19
-
Members Price:
$93.19
Hawaiian Water Sports Center prides itself on offering the best Oahu surfing trips and Oahu surfing instruction. Come step aboard our one of our private boats and be taken to a secluded bay for your Oahu surfing adventure. Our secluded Oahu surfing locations offer you the perfect chance to have your own private waves. Tired of competing with hundreds of surfers for a wave? Choose Hawaiian Hawaii Water Sports Center for a truly unique Oahu surfing adventure.

For those in your group who may not be interested in surfing... Come along and enjoy the sunshine, go for a swim or snorkel, or simply watch the great Oahu surfing action.

WHY NOT TRY OUR 3 RIDE SPECIAL FOR ONLY $79 AND SAVE UP TO $40. CLICK ON "HAWAII WATER SPORTS CENETR" ON TOP OF THE PAGE FOR A FULL LIST OF COMBINATIONS AND ACTIVITIES.