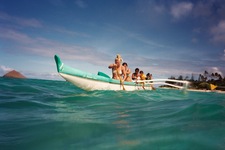 Adult Price:
$114.14
-
Members Price:
$114.14
Children Price:
$93.20
-
Members Price:
$93.20
Experience the beautiful waters of Kualoa while paddling in one of our traditional Hawaiian paddling canoes. This adventure offers you a chance for a light workout while paddling as our ancestors did and enjoying the beauty of this sacred area.
Accommodation Information:
Check here acknowledging that there is a 10% cancellation service charge, for any cancellation prior to 48 hours before your reservation. Any cancellation made within 48 hours of your activity reservation will be charged a 100% cancellation charge. All guest must sign liability waivers for activities.