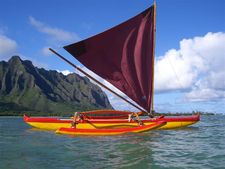 Adult Price:
$114.14
-
Members Price:
$114.14
Children Price:
$93.20
-
Members Price:
$93.20
Join us for a truly authentic and traditional Hawaiian experience aboard our Hawaiian Sailing Canoe. Learn about traditional Hawaiian practices of canoe building, navigation, and voyaging while sailing in the beautiful waters of Kualoa.
Accommodation Information:
Check here acknowledging that there is a 10% cancellation service charge, for any cancellation prior to 48 hours before your reservation. Any cancellation made within 48 hours of your activity reservation will be charged a 100% cancellation charge. All guest must sign liability waivers for activities.