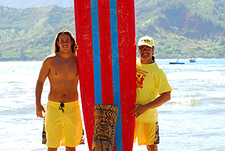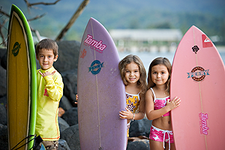 Group Student Price:
$67.71
-
Members Price:
$54.17
Semi-Private Surf Class (up to 3 Students) Price:
$234.38
-
Members Price:
$187.50
Private Adult Student Price:
$156.25
-
Members Price:
$125.00
Private Child Student Price:
$130.21
-
Members Price:
$104.17
Surfing Lessons in Kauai on Hanalei Bay...doesn't get much better than this. Hawaiian Surfing Adventures is the first Hawaiian Surf School on the North Shore. Our company is owned and operated by the Alapa family and crew. We'll show you a true Hawaiian indigenous experience of riding a wave. A nostalgic reminder of beach days long past, this small native business runs on the true spirit of Aloha, a connection between people and nature.

Our lessons are set on Kauai's beautiful North Shore. Here you will meet the Alapa family and their crew who are dedicated to give you the best ocean experience of your entire life. Hear stories of old Hawaii, learn history about the North Shore or just hang out with the surf crew.

Hawaiian Surfing Adventures specializes in private semi private and group Surf Lessons, Surf Safaris and Children of the Sea Surf Camp.
Group Student:

Semi-Private Surf Class (up to 3 Students):

Private Adult Student:

Private Child Student:
Accommodation Information:
Please call at least 24hrs in advance to cancel or resechedule our surfing adventure! Mahalo and we look forward to seeing you! A 10%cancellation fee on all bookings!