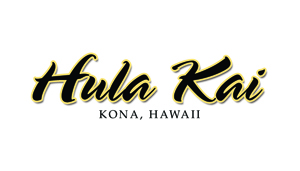 Phone: 808-322-2788
Toll Free: 800-677-9461
Year Established: 1971
Fair Wind Cruises Located in Keauhou-Kona on the Big Island of Hawaii, Fair Wind Cruises has been offering snorkel excursions since 1971. We offer two vessels with two very unique snorkel experiences. Our snorkel destination on Fair Wind II, historic Kealakekua Bay, is without question one of the most relaxing areas for snorkeling - maintaining clear visibility and very calm waters throughout the day. Kealakekua Bay was designated a marine life sanctuary in 1971. Since that time, Fair Wind continues to work with the state as stewards of the area to help educate guests on protecting this marine environment. As a result, you will see a variety of living corals and fascinating fish species. In addition, this area is rich in Hawaiian history and includes the site of the historic Captain Cook Monument. The land the monument sits on actually belongs to England and is the only place you can view British soil while visiting Hawaii! Our newest vessel, Hula Kai, has been designed and built to accommodate guests who seek the very best in luxury, comfort, and technology. Our Hula Kai cruise offers the advanced snorkeler a way to explore some of Kona's most unique and less traveled snorkel destinations along the spectacular Kona Coast shoreline. We have taken great consideration in making our cruises available to all skill levels and ages! Our destinations, highly trained crew, and years of experience offer a safe and memorable cruise. We have floatation devices, view boxes, and snorkel instruction available for those needing additional assistance. Plus, our vessels were specifically designed with two custom staircases to make entry and exit of the water safe and easy. For more information online or to reserve a cruise, please visit our website at www.fair-wind.com. We look forward to sharing the beauty of our island with you!
ACTIVITIES: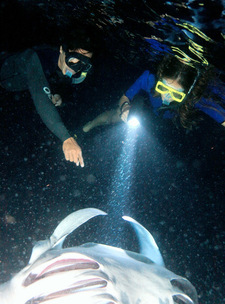 Join us aboard Fair Wind's luxury vessel, Hula Kai, for one of the most exhilarating experiences in Hawaii.

Mantas are very gentle, no teeth, stingers or barbs. They are simply big and beautiful with wingspans that can exceed 15-feet in width! These "Gentle Giants" visit us nightly to feed on the plankton that is attracted by Hula Kai's bright lighting.

An incredibly fun and safe activity for all! This cruise includes warm soup & bread rolls, hot drinks (tea, coffee & hot chocolate), snorkel gear, wetsuit and instruction. Wine and beer available for purchase after snorkeling. Please bring towel and jacket.

Minimum age 7 years old.

Please check in at our Keauhou Bay office 1/2 hour prior to departure time. Cruise times vary with sunset.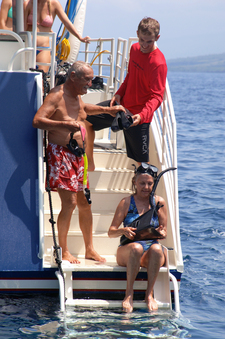 Enjoy two snorkel destinations along the Kona Coast aboard Fair Wind's newest vessel, Hula Kai. This 5-hour cruise departs from Keauhou Bay and includes two unique snorkel destinations, snorkel gear and instruction, light breakfast and gourmet barbecue lunch.

Guests are served a tropical breakfast of croissants, egg frittatas, fresh island fruit, yogurt and granola. Also enjoy 100% Kona coffee grown on our estate farm, herbal tea, and juice. The barbeque lunch includes cheeseburgers, garden burgers (for vegetarians), teriyaki chicken tenders, complete condiments, pasta salad, fresh green salad, chips, cookies, soft drinks, and tropical fruit juice.

Our Captains will select the best snorkel destination for the day from many available along the beautiful Kona Coast. One of our favorites is Pali Kaholo where the sea caves and lava tubes are a must see!

No host bar available during cruise.

9:30am - 2:30 pm, Please check in at 9:05 am at Keauhou Bay with towels, sunscreen and light cover-up. We ask that everyone in your group that is 18 years of age or older comes inside, together as a group, to sign our waiver and receive boarding passes.

Hula Kai minimum age requirement: 7 years.



Cancellation Policy: 24 hour cancellation period. 72 hours for parties of 10 or more. Manta Pledge: Should the rare occasion occur where there are zero manta sightings, guests are welcome to come again free of charge. No refunds. Not valid for ride alongs.