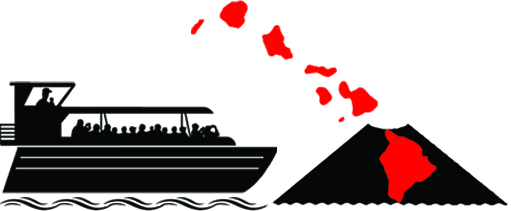 Phone: 808-966-4200
Year Established: 2006
Islandwide Big Island Tours. We're best known for Lava Boat Tours, Lava Hikes & Volcano Boat Tours. However we offer Big Island Whale Watching Cruises in Kawaihae and Hilo December 1- April 15. Also we have Hilo Fishing Charters and our best kept secret the Ultimate Waterfall & Dolphin Boat Tour from Hilo. Are you looking to go off the beaten path to explore hidden Hawaii & discover unique places only foundon the Big Island of Hawaii? One of Hawaii's premiere land & ocean activities company specializing in Big Island Tours in Hilo and on the Kona-Kohala coast near Waikoloa resorts. Our fleet consists of 3 Aluminum Boats the first a 40ft covered Modern Luxury catamaran "Lavaone" rated for 49 guests, the 2015 Adventure Cat 33ft 30 passenger "Lavakai II" and the 6 passenger fishing vessel "BOB" for your ocean fun Reservations 808.966.4200 WWW.SEELAVA.COM WWW.KOHALATOURS.COM
ACTIVITIES: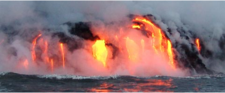 Lava Boat Tours are the premiere way to view lava on the Big Island, Hawaii. .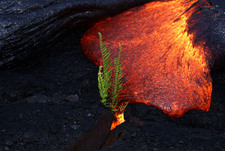 Lava Hikes to see lava in Hawaii flowing across the land in route to the sea.
Join us as on a lava tour to hike & visit Madame Pele's rivers of fire. Walk over recent lava flows and feel the heat as our volcano guides lead you to experience the ever changing lava flows from the Kilauea Volcano. Feel the heat under your feet, hear the crackling of the lava while keeping an eye out for surface outbreaks. This is an experience you don't want to miss!

Lava is a natural event and can start and stop without warning. When there is no Lava visible at Kalapana the tour will access private lands to bring you as close as possible to the current front of the most recent lava flows.

General Information
Schedule:9AM, 12 noon. Tour varies 6-8 hours round trip, departs Hilo Town.
Tour Rating: Advanced; guests need to be 8 years and older.
We Provide: Walking sticks, Bottled water, snacks, local guided tour highlighting the Kilauea Volcano
Prices:Adult $175.00. Child (8-15 ): $150.00 taxes included
Group Size: Tour limited to 6 guests per guide.
Restrictions: Guests need to be able to hike on uneven rocky terrain for an extended amount of time.
What to Bring & Wear: Comfortable walking shoes(sneakers or hiking boots), long pants or shorts, a sleeved shirt, light jacket, rain poncho, gloves.

This extreme Hawaii tour hikes over rough lava terrain which can have steep trail grades. We do not recommend this tour for children under 6 years of age or those with recent leg or foot injuries please consult your doctor before booking. Our lava hikes cover a vast amount of lava terrain anywhere from 4-10 miles call for recent conditions; all hikers must be able to retain a good pace lava terrain.
Lava Hikes walk you to See Lava on the Big Island of Hawaii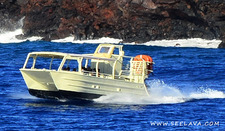 Hilo Boat Tours & Cruise Ship Hilo Shore Excursions on the Big Island, Hawaii to see Waterfalls, Dolphins, Big Island volcanoes, historic landmarks and the most tropical landscapes in Hawaii. Family Friendly Hilo tours make everlasting memories and great Hilo Cruise Ship Day Tours. Hilo Tours depart Wailoa Boat Harbor near Suisan Fish Company.

Hilo Whale Watching is best From December - April Humpback Whales are become a daily favorite, with sightings on every whale watch tour or you come again FREE. The Hilo side see far less boaters with only a few commercial operation so enjoy a one on one whale encounter without another boat in sight unlike the Kona whale watching partys. We see many types of behavior during this important mating time including Breaching, Fluking, Tail Slaps, baby Humpbacks (Calves), and Competition Pods.

Plenty of Free parking right where you board the boat.
Stereo Hydrophones to let you hear and feel the mysterious whale sounds.
Onboard narration pertaining to whale activity.
Friendly captains & crew will make this your whale watch of choice.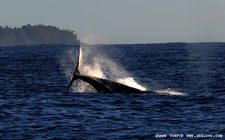 4 Departures Daily 8AM, 10AM, 12PM, 4PM Best Whale Watching on the Big Island of Hawaii is along the Kohala Coast, a protected Marine Sanctuary where Humpback whales return yearly to honeymoon in paradise!

Join to experience Humpback Whales on an intimate Big Island Whale Watching tours beginning on December 1 and operating through April, Whale permitting. The Kona/Kohala coasts offers the best whale watching in Hawaii, Kawaihae Harbor South is located inside the National Marine Humpback Whale Sanctuary, the best place to see whales.

Our Friendly staff welcomes you onboard the modern, 2015 built ?LavaKai II? for an intimate wildlife cruise. Ocean dreams become a reality 11 miles North of Waikoloa Kohala Ocean Tours invites you to experience calm, crystal-clear waters, an underwater paradise of pristine, colorful, coral reef gardens in a protected marine sanctuary with more than 600 species of marine life. Begin or end your day on a snorkel cruise to discover dolphins as we explore the scenic Kohala waters for pods of our resident spinner dolphins. Experience the excitement as the curious wild dolphins swim up to the boat take a closer look and astonish you with their aerial acrobatics.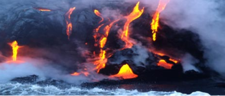 Twilight Lava Boat Tours

DRESS TO GET WET YOUR ON A BOAT - Bring a change of clothes for after trip in case you get wet.
Please follow directions provided GPS is not always accurate

Tour Information
Schedule: Twilight Lava Boat Tours departs from Isaac Hale Beach Park also know as Pohoiki Boat Ramp
February 1 - April 30 9:30PM check in 9:00PM
May 1 - July 31 9:00PM check in 8:30PM
August 1 - October 30 9:30PM check in 9:00PM
November - January 30 9:00PM check in 8:30PM

Tour Rating: Advanced guests need to be 6 years and older.
We Provide: Bottled water, Hawaii Lava Tour to see active lava from a local Big Island Ocean Guide showcasing Kilauea Volcano, Hawaii Volcanoes National Park, Ocean Life and Hawaii's active Volcanoes.

The Twilight lava adventure tour to sea lava entirely in the dark. When the lava is entering the sea a boat lava tour is by far the best spot to view lava. Many dream of watching the lava sizzle into the ocean against the nights darkness. Depending on conditions we can view anything from eruptive splatter cones to oozing rivers of lava. The excitement you'll feel while watching active lava by boat will be an everlasting memory. On this Hawaii Volcano Tour to Kilauea you can see lava, hear lava, and feel the heat as molten lava sizzles into the Pacific Ocean from your front row seat aboard one of our Hawaii Lava Ocean Adventure Tours.



Night Manta Ray Snorkel in Hawaii

The best way to get upclose & personal with these gentle giants is on Night Manta Ray Snorkeling on the Big Island of Hawaii

This snorkel adventure is at night for the best viewing of the manta rays. You can view manta rays during daylight hours, however they feed most actively at night when many plankton rise towards the surface providing a symbiotic relationship and the ultimate night snorkel cruise. Using high powered ECO LED lights that are safe for the manta, we are able to entice these plankton thus calls the mantas to our snorkel site. Unlike the crowded Kona Manta Snorkel sites we offer a private dive site for you to enjoy an intimate manta ray experience close to the Waikoloa & Kohala resorts.

Manta rays unlike Sting Rays are completely safe to be around and have no stingers and are majestic gentle giants. Come enjoy the ultimate manta ray snorkeling experience today!
Cancellation Policy: Reservations cancelled before 48 hours receive a 90% refund. All cancellations will be assessed a 10% processing fee Cancellations Less than 48 hours will not be refunded it doesn't allow enough time to rebook seats. By pressing SUBMIT I acknowledge that I have read & understand the Cancellation policy, all passengers will be required to sign a liability waiver prior to tour.