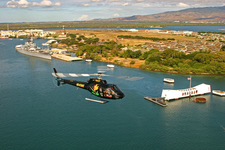 Tour times:
Passenger Open Seating Price:
$170.25
-
Members Price:
$144.71
Passenger First Class Price:
$190.25
-
Members Price:
$161.71
This tour begins with a beautiful view of placid Keehi Lagoon and continues over historic Honolulu Harbor. Here you will see Aloha Tower, once the tallest structure on the island, as well cruise ships from distant ports. Next is downtown Honolulu, featuring the only royal palace in the country.

Above the city stands Punchbowl, the National Memorial Cemetery of the Pacific. The tour continues above Ala Moana Beach Park, Magic Island, the Ala Wai Yacht Harbor and Waikiki Beach. Beyond, you'll see Diamond Head crater from a dramatic perspective, the "Gold Coast" where multi-millionaires make their homes, and spectacular Hanauma Bay.

Rounding the east end of the island, you'll see rugged coastline, inviting Sandy Beach and Makapuu Point and lighthouse. Your aerial tour continues over Sea Life Park, the estate where TV's Magnum P.I. was filmed, and miles of white sand beach.

You'll be treated to a stunning view of Mount Olomana and, later, the Nuuanu Pali where King Kamehameha's warriors won a decisive battle to unite the islands.

On your return to the airport, you will be treated to a terrific view of the Arizona Memorial and the Battleship Missouri at Pearl Harbor.

Passenger Open Seating:

Passenger First Class:
Accommodation Information:
Makani Kai Helicopters has a 72-hour cancellation policy. Customers cancelling flight within 72 hours "may" be charged for their flight. Please call us at (877) 255-8532 at least five days prior to your tour to reconfirm hotel pick up address and time. Open Seating passengers weighing in excess of 250 pounds may be charged an additional fee equal to one-half the cost of one seat. Open Seating passengers weighing more than 300 pounds will be charged for an additional seat. Any two Open Seating passengers from the same reservation whose combined weight exceeds 430 pounds may be required to purchase a comfort seat. An individual First Class passenger?s weight must not exceed 180 pounds; the combined weight of two First Class passengers must not exceed 345 pounds. SAFETY POLICY: TOPS members put safety as their number one priority with the mission of making helicopter sightseeing tours among the safest type of flying today. Operators who are approved by TOPS have committed to a higher standard of safety, sharing safety knowledge and to self-policing those standards.