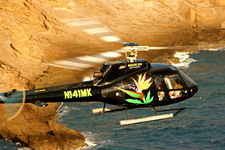 Passenger Open Seating Price:
$239.00
-
Members Price:
$239.00
This exciting combination package gives you the spectacular half-hour Pali Makani tour and a romantic sunset cruise complete with sumptuous dinner buffet aboard the sleek Navatek, a twin-hulled vessel designed with technology to minimize wave action. Combo package saves customers up to $50 per couple.
Accommodation Information:
Makani Kai Helicopters has a 72-hour cancellation policy. Customers cancelling flight within 72 hours of their selected tour may be charged for their flight. Please call us at (877) 255-8532 at least five days prior to your tour to confirm your hotel pick up address and time. Open Seating passengers weighing in excess of 250 pounds may be charged an additional fee equal to one-half the cost of one seat. Open Seating passengers weighing more than 300 pounds will be charged for an additional seat. Any two Open Seating passengers from the same reservation whose combined weight exceeds 430 pounds may be required to purchase a comfort seat. An individual First Class passenger's weight must not exceed 180 pounds; the combined weight of two First Class passengers must not exceed 345 pounds.