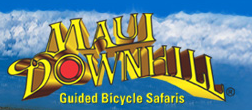 Phone: 808-871-2155
Toll Free: 800-535-2453
The owner Rich Goodenough conceived the guided safari downhill bike tour concept in 1983. Maui Downhill is a divison of Maui Bicycle Safaris, LTD, the oldest, most experience and most professional company in the business. Established in 1984, Maui Downhill has guided over 500,000 visitors down Haleakala from the summit to the sea, touring over 11 million miles on our custom-built bikes.

Maui Downhill offers a variety of safari bike tours. It is a breathtaking experience and there's nothing like it. Our tours and Hawaii-certified tour guides have been voted "Maui's Best Land Tour Experience".

Maui Downhill's goal is to provide each guest with a memorable experience of the most exciting environmental bike ride in the world.

Maui's unique topography provides our guests with palate of sights and smells as they bike down the winding road from the summit. The terrain ranges from the impressive barren lunar landscape of Haleakala's summit, through unexpected eucalyptus forests, past the island's protea and flower farms and through vast pineapple and sugar cane fields reaching to the edges of Upcountry Maui.

ACTIVITIES:
- Meet us at our base of operations, 201 Dairy Rd. Kahului. Dairy Road is the main road to the airport.
- Continental breakfast provided; muffins and hot beverages.
- Haleakala National Park tour is included. See the neighbor islands from 10,023' the highest point on Maui.
- You will view the First Light of a new day as we journey across Maui's central valley and ascend Haleakala. As the sun rises we enter Haleakala National Park and proceed to the summit. Here you will view the spectacular 3000' deep crater with cinder cones, volcanic features and tour the House of the Sun Visitor Center.
- Learn about the history of the Volcano and your National Park; visit the Silversword plants, native endangered species, and birds that have made Haleakala their permanent home.
- After touring the Park your bicycle tour begins at 6500' elevation outside the park. Your guides will go over a comprehensive safety briefing including bicycle safety regulations and tour guidelines.
- As the bicycle safari begins you will gently descend the 21 switchbacks on the western slopes of the world's largest resting volcano. Enjoy Bi- Coastal views of Maui's central valley, the open range of Haleakala Ranch and Maui's beautiful landscape.
- Coast through eucalyptus forests and the upcountry community of Kula with beautiful Jacaranda tree lined roadways.
- There will be photo stops along your journey to take home Maui's magical moments.
- Enjoy a no-host lunch and rest stop.
- Safari van tour from Pukalani to the sea with information and history of Maui's sugar cane and pineapple plantation days.
- Bicycle helmets and windbreakers are fitted to each guest for their comfort and safety.
- Tour duration approximately 6-7 hours.

Haleakala Bike and Winery Safari Tour Includes:
- Meet us at our Base office location in Kahului.
- Continental breakfast, pastries, hot beverages and restrooms are provided at our base office.
- Bicycle helmets and windbreakers are fitted to each guest for their comfort and tour safety.
- Safari van tour ascends to the top of Haleakala Ranch at the 6500' elevation outside the National Park.
- Tour Guides will go over a comprehensive safety briefing Including Hawaii's bicycle safety regulations and tour guidelines.
- Downhill bike safari gently descends the western slopes of Haleakala volcano with two safety stops in the switchbacks for rider evaluation, rest and photo opportunities.
- Enjoy spectacular views while coasting down the newly paved state highway. This roadway has wide paved "pull out" areas for photo stops and/or traffic passes.
- Two experienced tour guides will be with you to answer any questions.
- Enjoy the comfort of our custom made bicycle while coasting through the green switchbacks of the western slopes filled with bi-coastal views of the Central Valley.
- Eucalyptus forests and the upcountry community of Kula with its beautiful lavender farms and Jacaranda tree lined roadways will complete the bicycle portion of your safari.
- Safari van tour continues from above Pukalani and travels to Ulupalakua with photo stop along the way.
- Enjoy a no-host lunch and rest stop.
- Walk the grounds of Maui's only winery and enjoy free tasting of local wines.
- Tour duration is 7 hours.
Cancellation Policy: Check this box to verify that you have read the tour description, and agree to Maui Downhill Cancellation, No Show and Refund Policy, which is as follows: If you have decided to cancel your reservation or need to re-schedule, please call our 24 hours Reservations 1-800-535-BIKE or our local office at 808-871-2155. All tour cancellations must be made 5-days prior to the tour date. Any cancellation within a 5-day period of the scheduled tour date, is subject to a $50 cancellation fee per person. You may re-schedule based on availability, 48-hours notice is required. Tours cancelled within 24 hours from scheduled tour date will result in a FULL CHARGE. No refund will be issued if you cancel a re-scheduled tour. There will be 100% charge for No Show (If you do not show up for the scheduled tour, no refund will be issued). You must be competent rider and please, no beginners. Sorry, no pregnant women allowed. Riders must be minimum 12 years of age. Riders must be 5 feet tall or higher. Maximum weight for bike rider is 250 lbs. No Riders may participate with medical conditions that would adversely effect them in this activity.