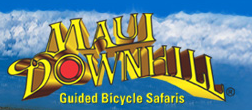 Phone: 808-871-2155
Toll Free: 800-535-2453
The owner Rich Goodenough conceived the guided safari downhill bike tour concept in 1983. Maui Downhill is a divison of Maui Bicycle Safaris, LTD, the oldest, most experience and most professional company in the business. Established in 1984, Maui Downhill has guided over 500,000 visitors down Haleakala from the summit to the sea, touring over 11 million miles on our custom-built bikes.

Maui Downhill offers a variety of safari bike tours. It is a breathtaking experience and there's nothing like it. Our tours and Hawaii-certified tour guides have been voted "Maui's Best Land Tour Experience".

Maui Downhill's goal is to provide each guest with a memorable experience of the most exciting environmental bike ride in the world.

Maui's unique topography provides our guests with palate of sights and smells as they bike down the winding road from the summit. The terrain ranges from the impressive barren lunar landscape of Haleakala's summit, through unexpected eucalyptus forests, past the island's protea and flower farms and through vast pineapple and sugar cane fields reaching to the edges of Upcountry Maui.

ACTIVITIES:
Cancellation Policy: Check this box to verify that you have read the tour description, and agree to Maui Downhill Cancellation, No Show and Refund Policy, which is as follows: If you have decided to cancel your reservation or need to re-schedule, please call our 24 hours Reservations 1-800-535-BIKE or our local office at 808-871-2155. All tour cancellations must be made 5-days prior to the tour date. Any cancellation within a 5-day period of the scheduled tour date, is subject to a $50 cancellation fee per person. You may re-schedule based on availability, 48-hours notice is required. Tours cancelled within 24 hours from scheduled tour date will result in a FULL CHARGE. No refund will be issued if you cancel a re-scheduled tour. There will be 100% charge for No Show (If you do not show up for the scheduled tour, no refund will be issued). You must be competent rider and please, no beginners. Sorry, no pregnant women allowed. Riders must be minimum 12 years of age. Riders must be 5 feet tall or higher. Maximum weight for bike rider is 250 lbs. No Riders may participate with medical conditions that would adversely effect them in this activity.