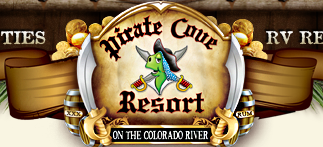 Phone: 760-326-9000
Toll Free: 866-301-3000
Year Established: 2012
Close to home..Far from everyday!

This secluded California oasis is located at the Moabi Regional Park, on the banks of the Colorado River, just 11 miles southeast of Needles, California.

Nestled among the palm trees and surrounded by pristine white sandy beaches, this first-class family destination offers it's guests luxurious accommodations, a 250 slip marina facility with 24 hour gas dock and a 7 lane launch ramp... all situated along Historic Route 66.

Whether you are looking for a relaxing getaway or an afternoon refuge from your travels, Pirate Cove offers an oasis that brings you back to a simpler life where you can eat, drink, play, and unwind the pirates way. Once ashore, take advantage of our many amenities including our award-winning pirate-themed restaurant and beach bar, spacious beachfront cabins, riverfront RV resort, boat rentals, children's water park and playground, and our new attraction... the Pirate Cove zip line adventure!

"Pirate Cove offers everything one looks for in a destination vacation or afternoon getaway."

For those looking for more adventure, take a self-guided tour on our groomed nature trails which showcase the native wildlife and flora. Or, set sail on our Boat Tour and explore Topock Gorge and Havasu Wildlife Refuge where you'll find an abundance of wildlife, lava
pinnacles and ancient petroglyphs on the gorge walls.

Experience Pirate Cove's new zip line adventure! It is one of Pirate Cove?s best family experiences and it's an adventure you won't want to miss! Imagine traveling at exhilarating speeds and enjoying incredible views of the Colorado River and the Cove.

Or you can choose to do nothing at all! Just sit back and relax... shaded by thatch palapas along the white sandy beaches of the Colorado River.

We are always adding more features and amenities so be sure to check back often.

Our Amenities

- On Historic Route 66
- Off-road trails
- Easy freeway access
- National award-winning restaurant
- Pirate-themed beach bar
- Seven-lane boat launch ramp
- 250 boat slip marina with 24/7 gas dock
- Boat rentals and sightseeing tours
- Fishing facilities
- General store and gift shop
- Security-gated dry storage facilities
- Free resort shuttle service
- Full hook-up RV campsites
- Wi-fi available
- Children's waterpark and playground
- Scenic nature trails
- Zip line adventure
- BBQ and picnic areas

Pirate Cove is truly a place in time. If you've got the time, we've got the place. Pirate Cove invites you to experience this spectacular beachside resort like no other on the Colorado River.
ACTIVITIES: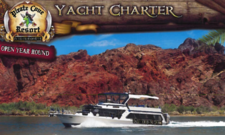 Take a luxury mini-cruise on our state-of-the-art, tropically themed yacht equipped with flat screen TVs, wet bar and air conditioned cabin, as well as a shaded upper viewing deck.

Cocktail in hand, you'll be transported on a two hour journey down the Colorado River amid a breathtaking backdrop of untarnished skies, tranquil emerald waters and ravishing red volcanic rock. With isolated coves and beaches teeming with wildlife such as rare birds and Bighorn sheep, rugged beauty is bursting around every cliff.

The tour cruises the shoreline, so you can almost reach out and touch your surroundings. You;ll be immersed in the rich history of the river; the highlight of the tour being a stop at an important archaeological site with an impressive collections of 3,000 year old Native American petroglyphs.
Cancellation Policy: Please note we have a 48 hour cancellation policy. To make changes or for 100% refund, changes must be Pirate Cove team. Cancellations inside 48 hours of your scheduled activity will be subject charge.