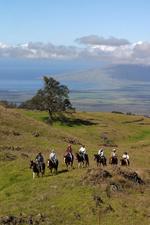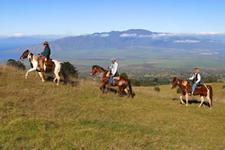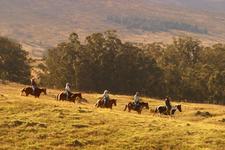 Tour times:
Adult Price:
$98.96
-
Members Price:
$84.12
Adult Price:
$98.96
-
Members Price:
$84.12
Adult Price:
$98.96
-
Members Price:
$84.12
The Hawaiian cowboy pre-dates the American cowboy by about 50 years, so cattle ranching occupies a significant chapter in Hawaii's history! Haleakala Ranch comprises a large portion of Maui's high country and our Pony Express rides go through the heart of it at the 4,000' elevation! The views at this elevation are breath-taking and unforgettable! You can make an Upcountry day out of it: take a Ranch Ride, view the Crater, see the Winery, and end up in the old cowboy town of Makawao!

Paniolo Ride
Two hour ride across scenic Haleakala Ranch - lush rolling pasture and beautiful ocean views. Includes Refreshment stop.

Picnic Ride
2.5 hour ride across beautiful Haleakala Ranch - Great views of Maui and the ocean. Includes Deli-Style lunch.

The Introductory Ride
This is a 1 hour ride for visitors looking for a short ride while touring other upcountry spots. The ride takes place at the historic Haleakala Ranch, the largest working cattle ranch on Maui. The ride offers views of the valley below while riding across lush pastures and through tall, fragrant eucalyptus trees. Riders meet at the Pony Express Ranch Office at 2:45

What to Bring:
The Haleakala Ranch horseback rides take place at the 4,000 ft. elevation above sea level. Wear long pants, closed toe shoes (like a sneaker) bring a jacket, hat, and sunscreen. Meet 15 minutes prior to the ride at the Pony Express Ranch Office.