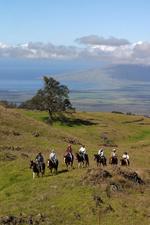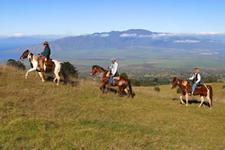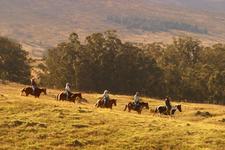 Tour times:
Adult Price:
$98.96
-
Members Price:
$84.12
Adult Price:
$98.96
-
Members Price:
$84.12
Adult Price:
$98.96
-
Members Price:
$84.12
The Hawaiian cowboy pre-dates the American cowboy by about 50 years, so cattle ranching occupies a significant chapter in Hawaii's history! Haleakala Ranch comprises a large portion of Maui's high country and our Pony Express rides go through the heart of it at the 4,000' elevation! The views at this elevation are breath-taking and unforgettable! You can make an Upcountry day out of it: take a Ranch Ride, view the Crater, see the Winery, and end up in the old cowboy town of Makawao!

Paniolo Ride: 8:30 AM-10:30 AM - checks in at 8:00 AM.
Two hour ride across scenic Haleakala Ranch - lush rolling pasture and beautiful ocean views. Includes a refreshment.
Such different scenery than down by the ocean: the country!

Mauka Ride: 11:30AM-1:30 PM - checks in at 11:00 AM

This is a slightly shorter 1 1/2 hour ride across Haleakala Ranch at the same elevation with sweeping views of the island and ocean below while traversing across lush rolling pastureland and through groves of tall fragrant eucalyptus trees.

Our ranch rides are perfect for people who are going up to see the sunrise at Haleakala Crater; afterwards, they can drive down; have breakfast next door at the Maui Lavender; and go out on our rides. There is also time to take in some other upcountry points of interest like the Winery, Surfing Goat Dairy, and Botanical Gardens.

What to Bring:
The Haleakala Ranch horseback rides take place at the 4,000 ft. elevation above sea level. Wear long pants, closed toe shoes (like a sneaker) bring a jacket, hat, and sunscreen.