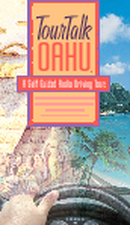 General Price:
$24.95
-
Members Price:
$21.21
TourTalk wants to share the Aloha Spirit and Culture of Hawai`i with you during your O`ahu visit. Our award-winning, high quality tour of O`ahu showcases the island's sites, history, and little-known facts in a way never presented before. The HEART of the tour is the CULTURAL STORIES that take you into ancient Hawai`i where ALOHA was born. Our Hawaiian narrators (7 experts plus musicians) share with you core cultural values such as "The Deeper Meaning of Aloha", "Traditions of Lei and Hula", "The Significance of Ohana(family)", "Hawaiian Spirituality", "Connection to the Aina", slack key music, mele, chant and more. You will experience the "chicken skin" sounds and re-enactment of the "Battle of the Nu`uanu Pali" and the "Attack on Pearl Harbor"!

Each tour package contains 2 CD's (almost 3 hours total of narrated edu-tainment) and a beautiful 72-page color booklet offering photos, factoids, journaling pages, maps and recaps the cultural stories featured in the recording. It's the most comprehensive, authentic cultural tour in the islands today and it's yours for only $24.95+ S/H. (Discount to Gold Card members.) To find out more about this exciting, self-guided driving tour, or to order online, visit our website at www.tourtalkhawaii.com (be sure to visit the product demo page and turn up your sound!) or call toll free 1-877-585-7499.
TourTalk-O`ahu?The One Tour You Take Home With You to Experience Time and Again!