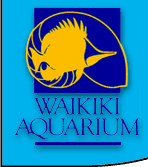 Phone: 808-923-9741
Toll Free: 800
Year Established: 1904
The Waikiki Aquarium, founded in 1904, is the third oldest public aquarium in the United States. A part of the University of Hawaii since 1919, the Aquarium is located next to a living reef on the Waikiki shoreline.
Our exhibits, programs, and research focus on the aquatic life of Hawaii and the tropical Pacific. Over 2,500 organisms in our exhibits represent more than 420 species of aquatic animals and every year, roughly 350,000 people visit the Waikiki Aquarium.

The Waikiki Aquarium has been designated as the Coastal Ecosystem Learning Center for the Pacific Island Region of the Coastal America Partnership.


ACTIVITIES: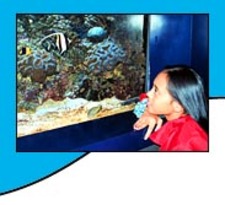 Waikiki Aquarium visitors can see an amazing variety of marine life from the tropical Pacific and Hawaii. Home to over 2,500 animals representing more than 420 species, the Aquarium is especially proud of its reputation of excellence in coral reef exhibitry.
Visit the NEW Green Sea Turtle Exhibit, the Northwestern Hawaiian Islands Exhibit and view the Peppermint Angelfish, one of the ocean's rarest fish - Only one on display for the public in the entire WORLD!!!
2014 marks the 110th Anniversary of Waikiki Aquarium, making it the 2nd oldest in the United States.

When you come to the Aquarium, you can get up-close views of reef sharks, living corals, endangered Hawaiian monk seals, graceful sea jellies, myriads of colorful reef fish and much, much more.