Phone: 808-269-5645
Year Established: 2007
Wake boarding and Water skiing off of Ka'anapali Beach. Family sized Private Charters, Freeride, Private lessons and Teen Camp.
ACTIVITIES:
Private Charter Maui's only Wake sports boat. Receive one-on-one instruction on any of our numerous sports.
We Provide:
Soft drinks and water
Deli lunch if booked for 4 or more hours
Snorkel Gear
Wake Boards
Wake Surfing
Wake Skating
Water Skiing
Safety equipment (gloves helmets life vests)
And now Tubing!

Use them all or just go for a boat ride.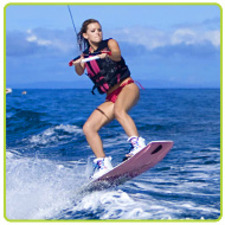 If you like smooth water, you'll bite down and get up early even on vacation. We leave Ka'anapali Beach at around sunrise check in 7:15am in search of a pristine piece of water. When we find it, each rider gets a half an hour to wear those legs out. Yeah, sunrise from the volcano is great but try sunrise looking back on Maui from a ski or a board! This one of our Non-Private Charters. Sure, you might sacrifice a little privacy, but you'll make it up in new found friends. Plus, it's only $109 (+tax) per person for up to a 3 hour trip.

NOTES:Dawn Sessions are reserved for activities towed behind the boat because the smoothest water is early in the day. If you're just coming along for the view and to offer moral support, your companion receives your time slot resulting in a full hour behind the boat. Rides are split into two separate sessions to give those legs a rest! :-)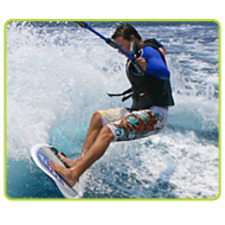 We leave Ka'anapali Beach at a time YOU specify and head south to a really great wake boarding bay and snorkel spot full of turtles. If you have done this before, you can just go for it. But don't worry if you are a beginner. Our experienced instructors will show you the ropes. Most people like this trip because you're away from the crowds and really have time to relax and take advantage of all the different toys we provide. This trip, like most of our tours, this is a private charter, which runs $739 (+tax) ...a small price to pay to know that if you do have to listen to excited screaming kids, at least they'll be your own! Water, Soda and Domestic Beer included.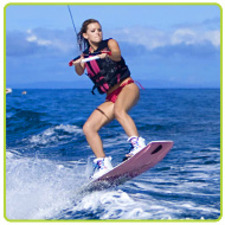 If your young adults are tired of moping around the pool and need a little excitement try this out. Its our afternoon wake camp for teens only. We can teach you to wake board, water ski or the newest sport that is sweeping the waterways, Wake Surfing! Get away from the parents meet some other people your age. You know, have fun!

We provide all the toys, instruction and a little supervision and presto! Parents get a guilt free afternoon to themselves! This trip is two hours and only run twice a week so book it early to guarantee your seats!

Instruction and beverages (water & soda) included.

*Note - You guys have to behave. Any dangerous horse play, not following the rules etc that results in the Capt loosing his hair its off the plank with ye' that is back to the beach with no refund.
Wake Maui offers yet another private charter trip that is up to you! Your private group can get a private lessons, Or, we can go to our Turtle Haven for a truly amazing snorkel. If you want, we'll point out every landmark and historical spot in the area or we can just shut up and let you watch a beautiful evening sky on the ocean. No loud announcements via intercom or other distractions, just a professional captain and your party enjoying the scenery. This trip is great if you want to get away from the crowds and enjoy some time on the water yet leave yourself some time for other things like spa time or your tee time.

Instruction, water, sodas and domestic beer included. 3 person minimum
Cancellation Policy: Notification of cancellation must be received by phone at 808.269.5645 at least 48 hours prior to the scheduled tour departure time. Parties adhering to this policy will receive a full refund. Any notice given with less than 48 hours remaining before the tour departure time will NOT be considered valid and NO refund will be offered.