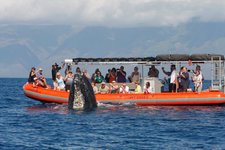 Whale of a Package (1 package = 10 whale watch Trips) Price:
$642.90
-
Members Price:
$642.90
It's a "A Whale of a Package!" Purchase our package and receive 10 whale watches at $10 off per trip. The WOAP seats can be used for any whale watch tour. The WOAP costs $599.90 ($642.90 inclusive of taxes/fees).

This is a savings of $107.10 off of the regular whale watch price of 10 seats ($750.00 inclusive of taxes/fees). You can use your seats on any of our four whale watches 7:30, 9:45, 12:15 or 2:30. The "WOAP" can be shared with as many people as you want (1 person on 10 trips, 2 people on 5 trips).

Once you purchase your "WOAP", you just have to call us at Captain Steve's Rafting to pick your whale watch times. Call us at 808-667-5565! Or you can email us back with your dates and times.

Captain Steve's Rafting Adventures contributes to science! Help us and get to know your whales too by sharing your whale photos at: https://happywhale.com/org/153
Accommodation Information:
Minimum age to ride on the rafts for whale watches is 3 years old. Minimum age to ride on the rafts for snorkel adventures is 5 years old. Our trips are not recommended for people with back or neck problems or pregnant women. For a 100% refund, cancellations or changes must be made at least 48 hours in advance of the tour time by calling reservations at 808-667-5565 (10 days in advance for private charters, no refunds on the WOAP). There will be a 100% charge for no-shows. In other words, if you do not show up for the scheduled tour, no refund will be issued, as our ability to fill the seat(s) will have been lost. WOAP seats are nonrefundable but do carry forward and can be gifted.