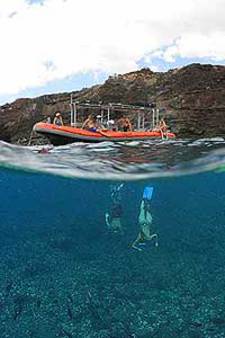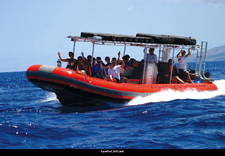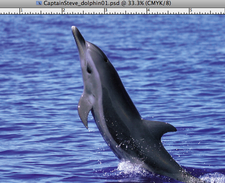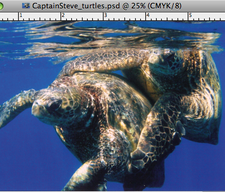 Adult (13 Years & Up) Price:
$96.44
-
Members Price:
$85.72
Child (5-12 snorkels/3-12 whale watches) Price:
$85.72
-
Members Price:
$75.01
"LIKE" Captain Steve's Rafting Adventures on Facebook to follow our fun on the ocean!

On this 3.5 hour snorkel tour, we depart a few minutes later in the morning giving you the opportunity to have a proper breakfast at your hotel or condo in preparation for our snorkel adventure. We still head across the channel to the island of Lana'i (weather permitting of course) where towering sea cliffs, sea caves, secluded coves, and lava rock pinnacles make up the setting. Imagine a pod of 200-300 spinner dolphins putting on a show just for you or swimming next to an endangered green sea turtle in the crystal waters of the Pacific above the most exquisite fringing reef in the entire State of Hawaii. Perhaps you will catch a glimpse of the most curious creature on the reef, an octopus, or an endangered Hawaiian Monk Seal! Manta rays, spotted eagle rays, pseudorcas (false killer whales), spotted dolphins, and bottle nose dolphins are all possible on this shorter snorkel trip.

Trip runs from 8:30-12:00 with 1-2 snorkel stops typically.

Sodas, iced tea, juices, water, and light snacks are included on this shorter trip. High quality masks, fins, and snorkels are provided as is snorkeling instruction. Floatation devices and life jackets are available upon request.

We recommend guests bring towels, cameras/underwater cameras, sunscreen, sunglasses, and jackets. Wear "slippahs" aka flip flops as we will be taking your shoes from you since this is a bare foot cruise. Call 808-667-5565 or visit www.captainsteves.com for more information.

All prices include taxes and harbor fees already.
Accommodation Information:
For a 100% refund, cancellations or changes must be made at least 48 hours in advance of the tour time by calling reservations at 808-667-5565 (10 days in advance for private charters, no refunds on the WOAP). There will be a 100% charge for no-shows. In other words, if you do not show up for the scheduled tour, no refund will be issued, as our ability to fill the seat(s) will have been lost. WOAP seats are nonrefundable but do carry forward and can be gifted.