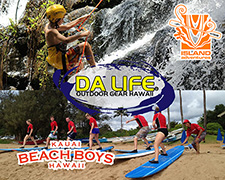 Phone: 808-246-6333
Year Established: 1983
Da Life is Kauai's one stop outfitter if you are looking to experience the island lifestyle. We offer everything from beach rentals, surf and stand up paddle lesson, to kayak , hike, and waterfall rappel tours. Join us for fun, excitement, and challenge yourself to make this trip the most memorable. Da Life is divided into two companies: Kauai Beach Boys and Island Adventures. Kauai Beach Boys: Under the same ownership since 1983, Kauai Beach Boys is Kauai's original surf school and beach concession. Water enthusiasts are eager to share with you their passion for the ocean. The staff all share a deep respect for water, an unadulterated love for surfing and paddling, and pride their chosen profession. With stand up paddling, surfing, canoe paddling, sailing, kayaking, snorkeling, body boarding, and just plain beach bumming? if its at the beach they got you covered. And with two locations, Kalapaki Beach and Poipu Beach, the surf is always up!s Island Adventures: Kayak, Hike and Rappel through the wildlife refuge to two private waterfalls with Island Adventures. Adventurers are being initiated daily to the thrills of swimming under or walking down a waterfall. Walking down a waterfall (also known as Canyoning), reminds me of surfing a wave. You engage in the moment, as you negotiate the next move. And when it ends, Wow! You want to do it again! Our experienced tour guides will coach you into a controlled descent down the face of a 30' and/or 60? waterfall. Of course they do receive expert instruction and are outfitted with harness, helmet, and top of the line rappel gear. No detail is spared or sacrificed to insure a safe experience.
ACTIVITIES: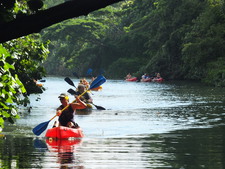 Check in at DA LIFE Outdoor Gear shop at Kalapaki Beach.

What to Bring:

1. Printed and signed voucher if you booked this activity with different agency and not directly with us.
2. Towel and swimming or dri-fit clothes.
3. Hiking/water friendly footwear. No Flip Flops (the trail gets slippery/muddy when raining). Water shoes are available for rent upon check-in ($10.00/day).
3. Extra set of dry clothes (Optional for lunch/van ride).
4. Light jacket or wetsuit top during winter months.
(Wetsuit tops available for rent $15 upon check-in)
5. Bug Spray/Sunscreen.
6. Snacks
(Lunch is served at end of tour)
*Dry bags are also provided. These are sized to fit a large backpack. However, keep in mind that you will be carrying this bag for the entire tour.
Please leave any unnecessary items at home or at your hotel. Do not leave them in the car, as we are not liable for any missing valuables.

We reserve the right to cancel a trip due to safety, weather, or not meeting the minimum tour count required to operate (minimum 6). Do not assume we have called off your tour if you see rain!
We want you to enjoy your tour, but we will not risk our guests' safety.

Tour Details:
This is an approximately 4.5 hour tour that departs from Da Life Outdoor Gear shop on Kauai Marriott's property next to Duke's restaurant.

A 5-min van ride takes the guests to the kayak dock based at Nawiliwili Small Boat Harbor.

Guests receive a brief lesson on paddling and safety. Life vests are provided during this time. The guests then paddle slowly along the Hule'ia river with a safety boat nearby. This is an easy downwind paddle (70-90min-2.5 mile) headed upstream into the heart of the National Wildlife Refuge. This tour is filled with cultural history and fun facts about Menehune fishpond, movie scenes, and more.

Next is a 10-15 min walk along a lush forest trail, to an awaiting Island Adventure 14 passenger van.

A 6-minute van ride takes guests to the beginning of our own private trail. (Our company leases 40 acres of private land adjoining the Hulei'a National Wildlife Refuge).

Your guides will lead you down the private trail sharing with you knowledge of local plant life and Hawaiian culture. An approximate 15-20 minute walk through a tropical forest abundant with succulent guava, passion fruit, laua'e fern, noni fruit, brings you to the ultimate destination.. two secluded, private waterfalls.

Along the trail guests will first pass the 30 ft Bamboo falls.

At the end of the trail is 60 ft. cascading Papakole?a (aka Dundee) falls. Here guests will have a chance to swim, play, and take awesome keepsake photos. If you would like to rappel these falls, it is offered on our Hawaiian Dundee tour.

You will then pack up and head back out to our shaded picnic area for a gourmet lunch, overlooking Hule'ia and Haupu Mountain Range.

Field restrooms are available at check-in and near picnic area.

Tour ends with guests being driven back to Da Life. Kayaks are towed back by our retrieve/safety vessel.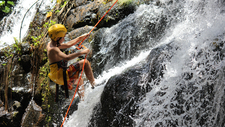 Hike, Rappel 30' Waterfall, and Rappel 60' Waterfall

The tour starts at our own private jungle trail. (Our company leases 40 acres of private land adjoining the Hulei'a Wildlife Refuge.)

After a detailed rappelling and safety lesson on a 25 ft dry wall, we start the hike down to the waterfalls. (for rappel gear, waist size must be 23" to 42".)

This is a 15 min nature hike through a tropical forest abundant with succulent guava, passion fruit, laua'e fern and noni fruit, leading to your ultimate destination, two secluded, private waterfalls!

The first 30 ft. waterfall is named "Bamboo Falls". Here is where guests will get their first chances to rappel (and swim in the jungle pool below.)

The second is 60ft. cascading "Papakole'a Falls", where guests will challenge their skills (and nerve) rappelling down this awesome wall of dancing water. Then we'll hike back to our shaded picnic area for a gourmet picnic lunch, overlooking the river and Ha'upu Mountain Range.

Tour ends with guests being driven back to Da Life.

**Age limit for this tour is 12 years and up. Must be able to swim, must be able to walk up 8 flights of stairs. For rappelling, waist size must be between 23" and 48".**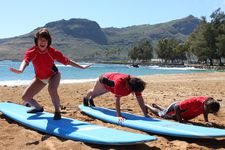 Surf Lessons and rentals since 1983 on two of Kauai's best learning beaches. Small classes, expert surf instructors and the best gear.

Learn to surf at Kalapaki Beach, one of Kauai's best beginner/intermediate waves. Kalapaki breaks in deeper water so students can focus on the waves ahead, not the reef below.

Lessons: 10AM, 12PM, 2PM - M, T, W, TH, F, SAT, SUN
3PM TH&FRI.
90 minutes (includes rashgaurd)
All lessons have a check in time of 10 minutes prior to your lesson.
Cancellations must be made 12 hours in advance.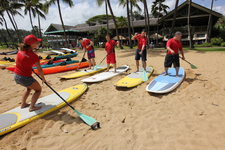 You can do this! Stand up paddling is the fastest growing sport in the water. If you can stand, we can teach you the rest. We have a large selection of Paddle Boards to ensure your success.

Lessons: 9AM, 11AM, 1PM, 3PM - M, T, W, TH, F, SAT, SUN
90 minutes (includes rashgaurd)

All lessons have a check in time of 10 minutes prior to your lesson.
Cancellations must be made 12 hours in advance.

Double the fun with two of Hawaii's favorite sports rolled into one!
Paddle and surf Kalapaki Bay with an expert waterman skilled in the sport of traditional canoe surfing. Get the thrill of surfing and the fun of paddling for a truly original Hawaiian roller coaster ride.

Rides: 9AM, 11AM, & 1PM - TH&FRI
45 minutes
This activity has a check in time of 10 minutes prior to your canoe ride.
Cancellations must be made 12 hours in advance.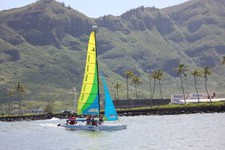 Sail from Kalapaki Beach on our new 16' Hobie Getaway.
Our vessel is fun and user friendly. Since 1983, Kauai Beach Boys is the longest (and only) operating sailing school on Kauai. We offer sailing charters and rides.

Charters and Rides: T,W, TH, F, Sat
Rides are 45-min scheduled on the hour from 11am-3pm.
Charters unlimited guests 3hr minimum. Please call for charter reservation 808-246-6333.

VESSEL: 16' Hobie Getaway catamaran. 1-4 person capacity; Boomless main; Roller furling jib

Cancellation Policy: 24 hour cancellation policy. Parties of 8+ is a 72 hour cancellation policy Cancellations within (24/72) hours of activity time are subject to a 50% charge. No-Shows are charged 100%.