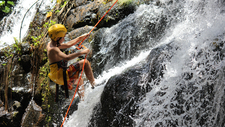 Adult (12+ yrs) Price:
$179.93
-
Members Price:
$179.93
Check in at DA LIFE Outdoor Gear shop at Kalapaki Beach.

ALOHA!

What to Wear:

Loose/Baggy Tops are not allowed.SKIN TIGHT/YOGA TYPE OF CLOTHING IS THE BEST FOR THIS ACTIVITY. It is required that you WEAR a SPORTS BRA/TIGHT TANK TOP/YOGA PANTS(women), bareback(men), or a fitted TIGHT top during the rappel portion.LADIES NO BIKINIS.CLOTHING MUST BE COMFORTABLE AND TIGHT.

No Flip Flops or rubber sole shoes (felt sole tabbies are highly recommended for rappel and are included in the tour price).


What to Bring:

1. Printed and signed voucher if you booked this activity with different agency and not directly with us.
2. Towel.
3. Extra set of dry clothes (Optional for lunch/van ride).
4. Light jacket or wetsuit top during winter months.
(Wetsuit tops available for rent $15 upon check-in)
5. Bug Spray/Sunscreen.
6. Snacks.
(Lunch is served at end of tour)
*Water shoes INCLUDED with your tour.
*Dry bags are also provided upon check-in. These are sized to fit a large backpack. However, keep in mind that you will be carrying this bag for the entire tour.
Please leave any unnecessary items at home or at your hotel. Do not leave them in the car as we are not liable for any missing valuables.

We reserve the right to cancel a trip due to safety, weather, or not meeting the minimum tour count required to operate (minimum 4). Do not assume we have called off your tour if you see rain!
We want you to enjoy your tour, but we will not risk our guests' safety.

Tour Details:

It?s not zip lining, it?s not rock climbing, it?s RAPPELLING. Rappelling is a controlled descent down a rock face (in this case a waterfall) using a rope. This once in a lifetime experience is a thrilling way to get up close and personal with one of Kauai?s most popular natural attractions. The expert trained staff uses the BEST gear and promotes SAFETY first.

A 10-min van ride takes us to the beginning of our own private jungle trail. (Our company leases 40 acres of private land adjoining the Hulei'a Wildlife Refuge.)

After a detailed rappelling and safety lesson on a 25 ft dry wall, we start the walk down to the waterfalls.

This is a 15 min walk through a tropical forest abundant with succulent guava, passion fruit, laua'e fern and noni fruit, leading to your ultimate destination, two secluded, private waterfalls!

Along the trail guests will first pass 30 ft. Bamboo Falls.

At the end of the trail is 60ft. cascading Papakole'a (aka Dundee) falls. This is where guests will challenge their skills (and nerve) rappelling down this awesome wall of dancing water (up to 3 times ? two on the sides and one in the middle of the falls). Then we'll head back to our shaded picnic area for a gourmet picnic lunch, overlooking Hulei?a and Haupu Mountain Range.

Field restrooms are available at check-in and near picnic area.

Tour ends with guests being driven back to Da Life.


Accommodation Information:
24 hour cancellation policy. Parties of 8+ is a 72 hour cancellation policy Cancellations within (24/72) hours of activity time are subject to a 50% charge. No-Shows are charged 100%.