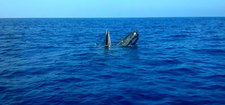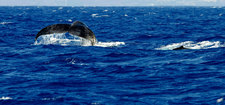 Passenger Price:
$109.37
-
Members Price:
$92.96
Whale season in Hawaii starts on December 16th and ends on May 15th. This is a seasonal tour.

The Humpback is a two hour Whale Watch Tour. We depart the harbor at 1 p.m. and cruise the beautiful waters of the Kona Coast, looking for Humpback Whales. Humpbacks are in Hawaiian waters during the winter months to calve and mate.

Since Pueo Kai is a great fit for small group, with each ocean adventure, you have all the room and space you need to enjoy these magnificent creatures. To witness them breach is spectacular! Observing the gentle giants taking care of their newborn calves is nothing short of amazing!

During the season, whale sightings are a 99% success rate with Hawaii Oceanic on the Pueo Kai.

We will return to the Harbor at around 3pm after an awesome adventure with the humpbacks.

Snacks, beverages, and complimentary photos provided.
Accommodation Information:
Reservations must be canceled at least 36 hours to date of activity to receive a refund.