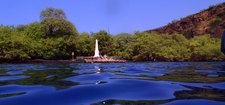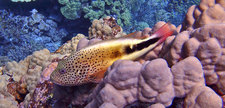 Passenger Price:
$182.29
-
Members Price:
$154.95
The Kona is our most popular tour, departing at 7:15am. We cruise from the harbor out into crystal clear blue waters while sipping on freshly brewed Kona Coffee and snacking on a selection of fresh tropical fruit.
Hawaiian Spinner Dolphin and Pilot Whales are frequently spotted on the way to snorkeling at Kealakekua Bay. Kealakekua Bay is a protected park, and entry to this Natural Reserve is limited to only those boats with permits to operate within the bay. Hawaii Oceanic is pleased to be among the few boats to offer our guests the experience of snorkeling in this pristine marine reserve. Because it's a protected park, the coral reef and abundant marine life, including tropical fish, is second to none. Besides being awesomely beautiful, it's also the best place to snorkel in Hawaii, and we can take you there!
After snorkeling in Kealakekua Bay an hour and a half or so, we start heading back to the harbor while keeping an eye out for Manta Rays or any other exciting marine life we may encounter on the way home.
All snorkel gear is provided, (fins, mask, snorkel), as well as snacks, beverages, and complimentary photos of your trip. We will return to the Harbor around 11am after the ultimate snorkel adventure in the bay!
Accommodation Information:
Reservations must be canceled at least 36 hours to date of activity to receive a refund.