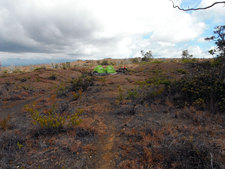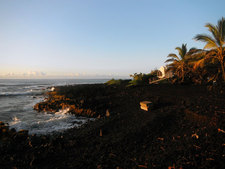 Adult Price:
$311.45
-
Members Price:
$264.73
Child Price:
$311.45
-
Members Price:
$264.73
Extreme Stopover aptly describes our 2 day one night snorkeling and hiking tour on the Big Island of Hawaii. Highlights include: snorkeling in crystal clear water, day hikes inside Volcanoes National Park, Waterfalls on the east side of the island and camping inside Volcanoes National Park.

Price: $299 plus tax

Capacity: 10 guests maximum

Kona return: 5pm to 6pm the day of return

Highlights: Trail running on new lava, ocean free
diving, hike at a black sand beach, spend the
night inside volcanoes national park, learn about
Hawaiian history, and culture.

Includes:
+ All camping equipment except sleeping bags
+ Cooler with ice, stove, cooking gear
+ All on-trip transportation including airport transfers
+ Quality snorkel gear
+ A knowledgeable guide

Equipment and clothing: Please bring a minimal amount for this tour because space is very limited. Your list should include: bathing suit, small pack towel,1 pair of pants,1 pair of shorts, 2 shirts, rain jacket, sandals, trail running shoes, sunscreen, hat, sunglasses, camera, undergarments, sleeping bag, water bottle, small pillow, and toiletries. Need to store your luggage while on the tour? No problem, we provide luggage storage at $10 per piece of luggage in a secure facility.

When making your booking, please let us know your pickup location, shoe size for snorkel fins, if you need to rent a sleeping bag, and if you need luggage storage.

The trip: This active tour is for the fast and light enthusiast.

Day one: We begin the tour at one of the best places to snorkel in Hawaii. The marine life is abundant at this first stop on the tour. We head south to tour a Kona coffee farm with samples of gourmet Kona coffee. Punalu'u Beach Park is next with turtles basking on a black sand beach and hiking to an ancient Hawaiian heiau (temple). We then drive to Volcanoes National Park. The views are the most spectacular at night when we visit Halema'uma'u (lava lake) where Pele lives . Camping inside of Volcanoes national park under a blanket of stars will finish this perfect day.

Day two: After breakfast we learn about Hawaiian culture and connection to the new land and lava. Get out the flashlight for Thurston Lava Tube to see how lava creates a cave. In Hilo we will see the stone that changed the history of these islands and the destiny of one of the greatest Hawaiian kings. A hike to Rainbow falls look outs and then on to boiling pots before hiking in the rain forest on the wet side of the island. Back on the dry side of the island we will be swimming in the ocean at a white sand beach.

Availability: overnight tours start frequently and we will do our best to accommodate everyone. We have a few dates available to book online, but please call or email us with the dates that you are interested in joining a tour and we will try to make it happen.