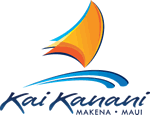 Phone: 808-879-7218
Year Established: 1987
Maui's finest sailing catamaran, offering first class Molokini snorkel excursions, whale watching, and sunset cocktail cruises from the golden sands and tranquil waters of Makena Beach. Only a 15 minute boat ride to Molokini-- we get you there faster, and in high style!
ACTIVITIES:
Join us early in the morning for undisturbed snorkeling at Molokini Crater! Our Express Tour departs promptly at 6:30 am; just in time for you to watch an epic Maui sunrise over Haleakala as we take a short 15 minute ride to the calm waters at the crater. Swim with turtles at our 2nd snorkel site, Turtle Town. Our Molokini Express Tour includes continental breakfast, quality snorkel gear, prescription masks, flotation gear and helpful instruction and assistance from our attentive crew.

This is a wonderful way to start your day or end your vacation - with plenty of time to check out of your hotel, considering we are back on the beach by 8:45 am!


This 4 hour snorkeling tour includes two snorkel destinations, which are typically Molokini Crater and Turtle Town. Our Deluxe Molokini Snorkeling Tour includes a light continental breakfast, deli-style buffet lunch, refreshing beverages, Mai Tai's and local beers on tap. Quality snorkel gear, prescription masks and flotation devices are provided as well as basic instruction by our attentive crew.

With a short 15 minute boat ride to Molokini Crater, you spend more time in the water observing the vibrant aquatic life of South Maui's pristine waters.

Toast to your sweetheart, family and friends as you casually cruise the Pacific Ocean, witnessing a spectacular Maui sunset.

This 2 hour trip includes freshly prepared Pupus served with a smile by our hospitable crew, open premium bar with local beers on tap and champagne.


Encounter endangered Humpback whales during their winter migration to Hawaii's waters. This 2 hour afternoon Whale Watching Tour is exciting and educational. Relax while we watch the Whales along the magnificent Maui coast line. Refreshing refreshing beverages and 2 Drink Tickets for use at our Premium Bar for Mai Tais and local beers on tap are included.

Cancellation Policy: In order for you to receive a refund, we require notice of your intention to cancel 24 hours prior to check in for groups of 1-3 people; 48 hours for groups of 4-5 people, 72 hours for groups of 6-9 people and 2 weeks prior for 10 or more people. Cancellations made after the grace period for your group size will result in a 100% charge being incurred (no refund). All cancellations will incur a 3% credit card charge fee.