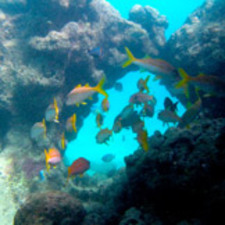 Diver (ages 10 & up) Price:
$125.65
-
Members Price:
$100.52
Ever wanted to try Scuba Diving? This is the perfect dive experience for the first timer. This Introductory dive takes place at the world famous Hanuama Bay.
This tour is available Monday, Wednesday, Thursday, & Friday . Choose from two dive times - 7:00 AM & 12:45 PM

Your Scuba Diving adventure at Hanauma Bay will start by either being picked up (free of charge) in Waikiki or meeting Living Ocean Scuba by the loading area in the parking lot of Hanauma Bay.
We will have you sign your Discover Scuba Diving registration and medical forms and walk you to the entrance of the park (the entrance fee is included in our price) then send you in to see a 7 minute video about preserving Hanauma Bay.
This introductory video tells you about some of the marine species that we will encounter on our trip and gives some good guidelines to help keep Hanauma Bay beautiful (such as not touching or standing on the coral reef.) While you are watching the video your Scuba Instructor will be getting all of your equipment ready for you.
Once you are finished with the video your instructor will give you a thorough safety briefing that will cover Scuba equipment use, interacting with marine life, and hand signals. After your safety briefing you will get into the gear, ride the tram to the beach and head into waist deep water to get comfortable breathing underwater as well as practice a few skills that your Scuba Instructor went over with you in the briefing.
After completing the skills and experiencing SCUBA for the first time your instructor will take you on a tour to see all of the beautiful species of marine animals that live in Hanauma Bay!
Boats are not allowed to enter Hanauma Bay so the only way to see these protected reefs is from shore. The best part of the reef is around 30ft making it colorful and giving us plenty of time to explore. We see Spotted Eagle Rays, Hawaiian Green Sea Turtles, schools of Convict Tangs, Sergeant Majors, Parrot Fish, Moray Eels and many other species while Scuba diving Hanauma Bay.