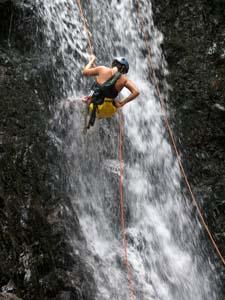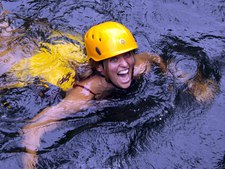 Rappel safely down waterfalls and steep cliffs into deep canyon pools and swim beneath private waterfalls. Hike through the rain forest along wondrous trails. Gaze down a spectacular canyon from panoramic viewpoints. Sample wild fruit off the trees, along with herbs and spices. This is a day for inspiration in nature while learning new abilities that will enhance your perspective on life. Leave your fears and inhibitions behind--come prepared to play in the wild on an action-packed adventure that's also a good workout.

We also offer a full line of canyoneering courses from beginning to very advanced, as well as advanced wilderness first aid and CPR. Review all of these on our website at www.rappelmaui.com.

The photos show what you can expect to experience on this tour.

Meet us in Central Maui. We'll drive you for an hour out the Hana Hwy to a beautiful arboretum and botanical garden, aptly named The Garden of Eden. There are restrooms at the trail head (with flush toilets). We'll hike into our private 300-foot deep canyon where we'll teach you how to rappel, beginning with an easy 60-foot descent to the top of the first waterfall. Then the fun really starts as you rappel down a 50-foot waterfall into a deep pool for some great swimming. For those with more experience, we have an overhanging cliff near the waterfall, where you can rappel down through the air for about 60 feet. Following the stream, we'll hike to a 30-foot waterfall for the next rappel. Once again the pool is deep and refreshing. You can also rappel this one from different starting points. Finally you climb a steep trail with 300 steps out of the canyon. Following the ridge, you'll enjoy overviews of the canyon and the waterfalls and panoramic views out across the ocean.

We'll enjoy lunch at one of the overlooks.

Companions who choose not to rappel may join the more adventuresome as just hikers (at a discounted rate) who will follow more lengthy trails to the pools at the bottom of the waterfalls, where all may swim and cheer together.
Accommodation Information:
If you cancel 48 hours or more prior to the date of the event, you will receive a full refund less a 10% cancellation fee. If you cancel within 48 hours for any reason, you will receive no refund, unless we can replace you. If Maui Canyon Adventures cancels (which we may in the event of dangerous weather or conditions), you will receive a full 100% refund. No refund is issued if participants are unable to join the tour at check-in because they don't meet the age or weight requirements. For our 3-day courses, the cut-off period for full refunds is seven days prior to the first class, unless we can replace you. We also guarantee within seven days that the class will take place once we confirm it.