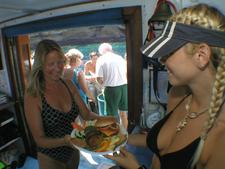 Adult Price:
$213.26
-
Members Price:
$213.26
Child Price:
$213.26
-
Members Price:
$213.26
Infants Price:
$0.00
-
Members Price:
$0.00
Splash into an Ocean of Fun aboard the Leilani!

Our Leilani tour features "world class" snorkeling, whale watching (seasonal), dolphin watching and a turtle watch all on the same trip. This is a five hour excursion from 8:00 am – 1:00 pm. Check-in at 7:45 am.

We provide a continental breakfast and delicious lunch, onboard our 50-foot custom vessel.
Join us for snorkeling at two of Maui's exceptional snorkeling destinations, including Molokini Crater and Turtle Town or Turtle Reef. Guests aboard Leilani enjoy a relaxed pace and extra time for your Captain to locate the best conditions and marine mammal (whale, sea turtle and dolphin) activity.

Our tour includes the following: Continental Breakfast - Fresh homemade Muffins, Tropical Fruit, Kona Coffee and Juice. LUNCH: Pulled Pork sandwiches, Pineapple Coleslaw, Jumbo Steamed HotDogs served with Maui Vegetables, and Pasta salad. For our vegetarian and vegan guests we provide a mixed green salad with a balsamic vinaigrette dressing (on the side), and a roll.
- DESSERT: Delicious homemade white chocolate macadamia nut cookies are the treat for dessert.

Enjoy complimentary beverages throughout the trip including Coke, Diet Coke, and Sprite. There's also an open bar (after snorkeling), serving Maui Brewing Company Bikini Blonde Lager and Big Swell IPA, wine and Mai-tai's. We provide reef-safe sunscreen free of charge as well as snorkel equipment, flotation devices, and optical masks, so there is no need to rent these items for this excursion.

Wet suits rentals are available for an additional charge (cash only). Please bring towels. Free reef-safe sunscreen is provided! (***Notice: When using our reef-safe sunscreen, please be sure to reapply it every 45 minutes and immediately after getting out of the water.) Picture ID is required for passengers consuming alcoholic beverages.

(This charge will appear as "Marine Charters" on your credit card.)

http://www.mauiboattrips.com

ABOUT LEILANI
Leilani is a newly renovated first class yacht with style and comfort when visiting Maui's best dive and snorkel spots on Maui, including Molokini Crater! Leilani is a 50-foot Uniflight Mono hull yacht, built by professional boat builders in Seattle, Washington, and customized specifically for a safe and comfortable ride in the Hawaiian waters. She is Coast Guard certified for 49 passengers but we limit our cruise to a maximum of 36 guests, so you can enjoy a more intimate charter, and experience world-class service at the same time! The layout of Leilani, combined with her capacity, ensures a personalized experience for every single one of our guests.

SERVICE GUARANTEE
We are committed to providing the highest standard of customer satisfaction on all aspects of our excursions, and we consistently strive to elevate our customer service to a level of perfection. In fact, that's the primary reason our guests tell us we're the best, and keep coming back year after year! The vessel has several unique & desirable features that add additional comfort and fun to the trip. These features include water shower, upper sunning deck, protected cabin area, modern head and a water entry ladder with a large swim platform.

*****WEATHER DISCLAIMER***************************************
To ensure the safety of our customers, all of our trips are weather dependent. At the captain's discretion, trips may be rescheduled or destinations may be changed to ensure customer safety, comfort, and satisfaction.
**************************************************************
Accommodation Information:
Full refund with a 48 hour advance cancellation and, for your safety, trips to our snorkeling destinations are weather dependent.