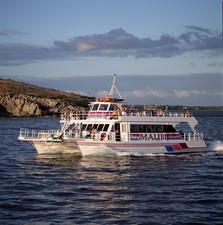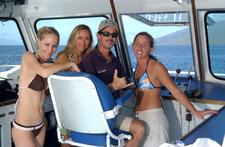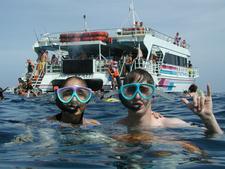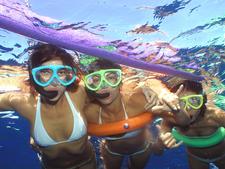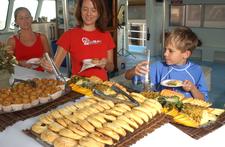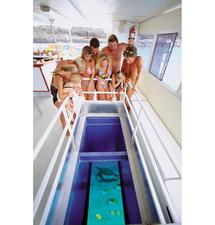 Adult Price:
$244.34
-
Members Price:
$252.49
Child Price:
$191.83
-
Members Price:
$252.49
Infants Price:
$0.00
-
Members Price:
$0.00
https://www.prideofmaui.com/trips/morning/

The Best Maui Snorkeling Tour to Molokini & Turtle Town aboard the "Impeccable" Pride of Maui!

(This charge will appear as "Hawaii Experts" on your credit card.)

INCLUDED
We provide snorkel equipment, flotation devices, and optical masks, so there is no need to rent these items for this excursion.

Our Deluxe Morning Snorkel Tour includes the following menu items:

- CONTINENTAL BREAKFAST: Fresh homemade Muffins, Tropical Fruit, Kona Coffee and Juice.

- LUNCH: BBQ lunch hot off the grill! Cheeseburgers, Hot Dogs, and Chicken Breast served, condiments and potato chips. (Lunch is served around 10:30 - 10:40 AM).

- DESSERT: Delicious homemade cookies are the treat for dessert.

** For veggie & vegan burgers, please give 72 hours notice by calling our reservations line at 808.242.0955.

Enjoy complimentary beverages throughout the trip including Coke, Diet Coke, and Sprite. There's also an open bar (after snorkeling), serving Maui Brewing Company beer, premixed Mai-tai's and rum cocktails.

ITEMS TO BRING
Camera, sunglasses, Reef Safe sunscreen and towels. Picture ID is required for passengers consuming alcoholic beverages.

EXTRAS

The cost for SNUBA; 1 dive (at one location) is $68.00.



THINGS TO KNOW

Snorkeling Safety Tips: https://www.prideofmaui.com/snorkeling-safety/

Frequently Asked Questions: https://www.prideofmaui.com/about/faq/

Best Maui Things To Do: https://www.prideofmaui.com/about/blog/

-----------------

Your adventure aboard the Pride will provide you with not only great service, food and fun for the whole family but also a Maui memory that you will never forget! There is something for everyone and you will receive great value for your vacation dollar!

*****WEATHER DISCLAIMER***************************************
To ensure the safety of our customers, all of our trips are weather dependent. At the captain's discretion, trips may be rescheduled or destinations may be changed to ensure customer safety, comfort, and satisfaction.
******************************************************************


Accommodation Information:
For your safety, trips to our snorkeling destinations are weather-dependent. Please provide 48 hours cancellation notification for a full refund. Less than 48 hours may result in no refund. Cancellations related to travel restrictions and COVID -19, will be fully refunded. Please travel safe and let us know if you have any questions about Hawaii's Safe Travel policies. To reschedule, call 808-242-0955.