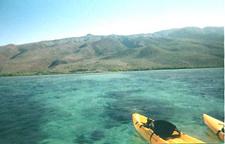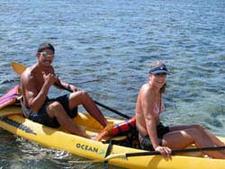 Adult Price:
$99.99
-
Members Price:
$84.99
Child Price:
$51.99
-
Members Price:
$44.19
KDAY01 Price:
$184.14
-
Members Price:
$156.52
KDAY01C Price:
$95.75
-
Members Price:
$81.39
*********************
Beginner to Advanced
********************

Kayak/SUP 5-8 miles of Molokai's reef as the trades gently blow you from Kamalo Harbor to Rice Patch. Experience an artists dream as you see the multitude of colors that the ocean has to offer.
********************
Do some kayak/SUP surfing inside the reef, waves permitting. Watch the turtles swim up the coast and who knows maybe see some whales during the winter months
*********************

The kayaking/SUP can be done for intermediate to advance paddlers,. The tour is done inside and outside the reef tide permitting and is one of the safer places to kayak in the State of Hawaii. The kayaks are doubles, Malibu XLs. Singles can be requested at time of reservation but experience is needed. SUP boards range from 11.4 to 14.0 depending on experience. Race boards may be requested and the upgrade proceeds go to Youth in Motion.

The main and most popular tour is a down wind run of 5 miles finishing at Rice Patch. Customers can choose to upgrade and complete the 8.5 mile run to Hotel Molokai, the magic carpet ride of Molokai's famous Stand Up Paddling Race, "The Molokai Holokai."
*********
Depending on weather/tidal conditions we may use an alternative route if the Kamalo run is not suitable.

Tour hours depend on conditions, but the rule of thumb, the windier it is the faster the downwind run...Time varies from 1.5-3 hrs on the water depending on the wind. No matter how short or long the water time, the experience is incredible and we are about quality time on the ocean.

Shuttle time from the final destination to the start is approximately 10-15 mins with a 10-15 minute safety briefing and what to expect prior to the tour commencing. During the shuttle up to the start location customers will get to see the course they will be paddling.

Gratuity is not include in this price.

Complimentary option to continue Kayaking on your own is offered for those that want to do a full day...This is without the guide but the finish is at a safe spot to continue on your own to Kaunakakai harbor or Hotel Molokai.

If customer chooses to take this option after the tour and their car is at Rice Patch then a small shuttle fee will be charged to take them back to their car.

Kayak Day tours include a mini island tour and the option to paddle the long distance.


MINIMUM OF TWO PERSONS.



Accommodation Information:
24 hour cancellation policy and 72 hour cancellation for all flight and accommodation packages to Molokai. A 10% service fee may apply to all reservations cancelled 48-72hrs prior depending on the activity. Online discounts are available for advanced bookings