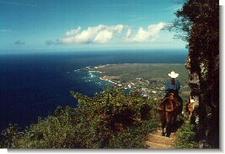 Adult Price:
$149.00
-
Members Price:
$149.00
You will need to book your own shuttle to the trailhead

We advise early starts so that you are ahead of the mules and then enjoy the beautiful scenery at the bottom of the trail. Take some relaxation time while waiting for the tour. .


The tour in Kalaupapa is all included in this package

This is a 15-20 minute drive to the trail head, so please allow time to get to the trail.

In the 1850's when Hansen's disease, formerly known as Leprosy, swept through the Hawaiian Isles the worst cases were sent to this isolated peninsula. In 1873 Father Damien arrived and was revered for his infinite love for the residents of Kalaupapa.
*********************
Kalaupapa Trail to Kalaupapa settlement
Hike down the trail which can take anywhere from 1.5hrs to 2.5 hours. There is a time limit and you MUST be in the settlement no later than 10.15am. Stop off at several view spots on the way down to take pictures.

*****************************
On arriving in Kalaupapa you will walk about 5 minutes along the beach trail. At the end of the beach trail you will come to a big open grassy area
********************

Kalaupapa Settlement
The bus tour will take you through the new settlement with stop at Mother Marainne's grave site, St Frances Church, the Kalaupapa landing and the bookstore which is now the official visitor's center. Those with a National Park Passport can get their books stamped. Books, postcards and T shirts are available for purchase
********************
Kalaupapa Settlement to Kalawao
Damien Tours takes one to the old settlement that Father Damien founded. Here one will get to visit St Philomena's church which Father Damien built and visit his grave site. Siloama the protestant church is a 100 yds a way and guests may also visit this church.
********************
Lunch at Kalawao
Enjoy your lunch and soak in the beauty of the North Shore of Molokai
********************
Kalawao back to the Settlement
After lunch head back to the airport where the plane will be waiting.

The tours are weather permitting..and safety is our priority.



********************
Do you want to purchase a shirt, I hiked the trail? Please call us at 1-888-553-4477 to order your shirt.



Accommodation Information:
24 hour cancellation policy and 72 hour cancellation for all flight and accommodation packages to Molokai. A 10% service fee may apply to all reservations cancelled 48-72hrs prior depending on the activity. Online discounts are available for advanced bookings