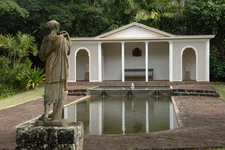 Adult Price:
$60.00
-
Members Price:
$60.00
Child (6-12yrs.) Price:
$30.00
-
Members Price:
$30.00
Child (0-5 yrs) Price:
$0.00
-
Members Price:
$0.00
SERENITY AND SURPRISE

Once a retreat of Hawaii's Queen Emma, the cliffs of the Lawai Valley still cascade with her favorite deep-purple bougainvillea. Pass into a majestic garden of beauty, a masterpiece of landscape design, and a natural showcase for tropical plants.

Behold the seemingly ancient Jurassic trees. Stroll through outdoor 'rooms', beside rippling pools and dramatic sculpture. Drink in the sights and sounds of fascinating plants, vibrant flowers, and flowing water. Taste the flavor of Europe blended with the spirit of Hawaii.

Allerton Garden is tucked away in the secluded Lawai Valley. Tour check-in is at NTBG's Southshore Visitors Center, a short distance from the Valley rim. Your tour includes Garden transportation into and out of the Valley, along a spectacular scenic route.

This garden is managed by the NTBG for the Allerton Gardens Trust.

Tour Length: Approx. 2.5 hours

Many paths are unpaved or grass and there is some uneven terrain which includes slopes and rock stairs.
Semi-compact, fully collapsible wheelchairs and strollers can be accommodated on most trams/buses when space on the vehicle is available.
There are steps into and out of the trams/buses to board or disembark.
We strive to accommodate the needs of all visitors so if you would like specific access assistance please contact us at (808) 742-2623 or email tours@ntbg.org (preferably 7 days in advance).

We recommend you wear comfortable walking shoes, long pants and/or mosquito repellent, hat for shade; bring water bottle.

No tripods on tours please.
Adult:

Child (6-12yrs.):

Child (0-5 yrs):
Accommodation Information:
24-hour cancellation notice required for full refund. 72-hour cancellation notice required for groups of 5 or more. Most tours require a minimum number of guests to run: 2 for Allerton & Combination Tours, 4 for Sunset Tours. We may need to rebook you should there be insufficient guests signed up.