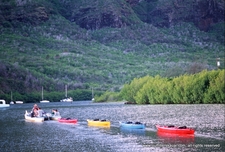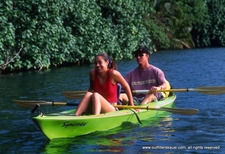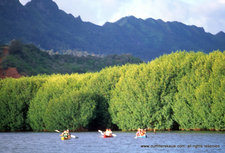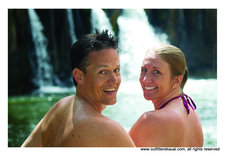 Small One under the Age of 2 (Free) Price:
$0.00
-
Members Price:
$0.00
Adult ($110 + tax) Price:
$114.59
-
Members Price:
$114.59
Child ages 3 - 14 ($88 + tax) Price:
$81.25
-
Members Price:
$81.25
A half-day version of the above listed Kipu Falls Safari- have a great paddle on the Hule'ia River- after cruising downwind for 2 miles, we?ll tie our kayaks to a tree and take a ¾ mile hike up the valley to an enchanting area of waterfalls and swimming holes. Take a swing on our rope into a deep-water mountain pool, enjoy snacks and cold drinks at a pretty little waterfall, and then for the return trip, rather than paddling your kayak into headwinds, kick back and cruise down river on our motorized Hawaiian canoe.

The mid-day tour includes a delicious picnic lunch at the waterfall's edge.

This trip is great way to have some fun and see some pretty places, without spending your whole day at it. For example: sleep in, have a swim at the beach, and join us for a three hour afternoon or mid-day Picnic Hidden Falls Kayak Tour. Or, paddle and hike with us in the morning, and go up to Waimea Canyon for the afternoon- a great way to get the most out of your vacation time!

What's Included: AM Tour includes snacks and cold beverages, the Picnic Tour includes a GREAT picnic lunch.

What to wear and bring: Swimsuit, shorts, t-shirt, windbreaker or light rain coat, footwear with aggressive tread for muddy conditions example: sport type sandals with heel straps or aqua socks with tread), sunscreen, hat, bug spray, H2Oproof camera.