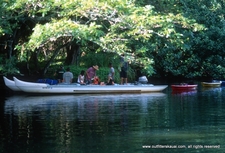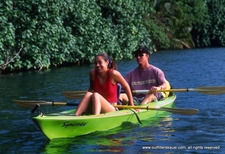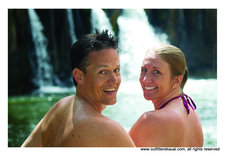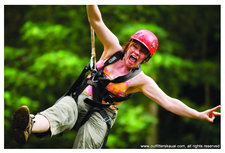 Adult ($178 + Tax) Price:
$185.42
-
Members Price:
$185.42
Child ages 3 - 14 ($138 + Tax) Price:
$143.75
-
Members Price:
$143.75
Take a fun downwind kayak trip on the Hule'ia River, a beautiful and historic jungle stream. After an easy 2-mile paddle, we?ll tie our kayaks to a tree and take a short walk to a gorgeous area of waterfalls and swimming holes. Next, we jump onto our covered wagon for a fabulous trip across Kipu Ranch- we?ll be pulled by our big 4WD tractor to Kamapua?a Falls trailhead- we?ll take a short stroll down to our incredible Swiss Family Robinson-style tree house, which is built around a huge Banyan tree. You?ll be overlooking the middle pitch of the 120? bridal veil Kamapua?a Falls from our picnic benches, while enjoying a delicious catered luncheon. Following lunch, guests will have the option of taking a wild ride on our 275? zipline over a waterfall and river, returning on foot via an aerial walkway and an 80? suspension bridge. State-of-the-art equipment and procedures make for a 100% safe and exhilarating ?extreme? experience. From there we?ll be continuing along our forest trail through the exotic foliage to Kipu Falls for swimming. The more adventurous types will be jumping into swimming holes at the base of waterfalls cascading over black lava rock cliffs, and swinging on ropes tied to tree branches high above mountain pools. Others will simply relax and enjoy the quiet beauty! From there, we?ll be cruising by covered wagon to a jungle trail, where we?ll walk to our river landing. Kick back on our exotic and unique twin-hulled powered Hawaiian canoe for a delightful cruise back down river: a relaxing end to an exciting day.

What?s Included: Snacks, cold drinks, and a GREAT picnic lunch.

What to wear and bring: Swimsuit, shorts, t-shirt, windbreaker or light rain coat, footwear with aggressive tread for muddy conditions(example: sport type sandals with heel straps or aqua socks with tread), sunscreen, hat, bug spray, H2O proof camera.