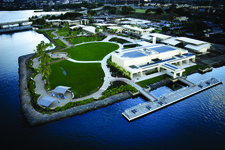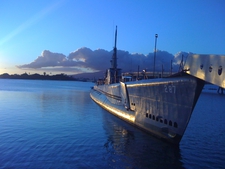 Adult Price:
$17.50
-
Members Price:
$15.75
Child (4-12) Price:
$11.50
-
Members Price:
$10.35
This three hour tour includes the National Park Services' official USS Arizona Memorial Narrated Tour and admission into the USS Bowfin Submarine Museum & Park. This package is one of the most popular tours purchased at Pearl Harbor and is a great value for the entire family. This tour is available in English, German, French, Spanish, Japanese, Mandarin and Korean.

The USS Arizona Memorial Narrated Tour is hosted by the famous actress Jamie Lee Curtis, the Pearl Harbor Survivors and the National Park Service historians. This fascinating Audio Tour take visitors throughout the entire Visitor Center, its museums, shoreline displays, onto the USS Arizona Memorial itself and is recommended to all individuals looking for an enhanced experience.

The USS Bowfin Attraction is really two distinct tours. First you'll discover one of the best submarine museums in the Pacific, which guides you through history from the first submarines ever built to today's nuclear submarines. Next you tour into the Bowfin Submarine, known as the Pearl Harbor Avenger. The USS Bowfin Submarine sank 44 major enemy ships and became one of the most decorated submarines of WWII. A fully narrated Audio Tour is included in both tours.

Please check in at the Pearl Harbor Historic Sites ticket counter, located in the courtyard of the Pearl Harbor Visitor Center. The ticket counter staff will then give you your tickets for the USS Arizona Memorial Narrated Tour and for the two Bowfin tours. (Open daily, except Thanksgiving, Christmas, and New Year's Day.)

Note – The movie and boat tickets to the USS Arizona Memorial are NOT included in this tour package. To secure your tickets for the USS Arizona Memorial Tour, call toll free 1-877-444-6777 or visit recreation.gov. If you find that recreation.gov is sold out for the day you wish to visit, there are still 1,300 free tickets available each day at the Pearl Harbor Visitor Center, which opens daily at 7am. These tickets are available on a first-come, first-served basis.