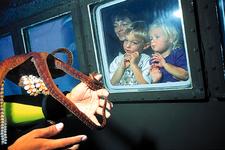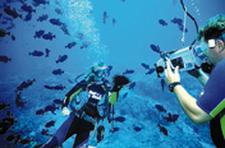 Adult Price:
$48.19
-
Members Price:
$38.55
Child Price:
$26.75
-
Members Price:
$21.40
Infant Price:
$0.00
-
Members Price:
$0.00
Board the Reefdancer for Maui's "Ultimate Underwater Viewing Adventure and Dive Show." Departing from Lahaina Harbor, the Reefdancer tours the only barrier reef in Maui. You'll have the opportunity to see various kinds of coral as well as reef fish such as the Humuhumunukunukuapua'a, Hawaii's state fish.

Some people call the 90-minute Adventure and Dive Show our deluxe tour. The extra time allows us to go out farther to an area where there are more turtles. In addition, there are also light refreshments served on this trip.

Once we are out to the best viewing site, you can sit in front of the big windows in our underwater viewing cabin for a close up view of the reef. This is when our divers will jump in the water and search the bottom for exotic critters they can bring right to your window--a great photo opportunity! Our experienced narrator will help you learn more about the world of Maui's reef.

After the divers get back on the boat we will head for a nearby area with a larger concentration of giant sea turtles. Watch them surface for air or get a look at them underwater.

This 90-minute tour of the underwater world of Maui features:

An air conditioned underwater cabin
Window seats for everyone
Dive show
Free fish chart and postcard
Visit to a turtle site

On the way back to the marina, guests can ride up on the top deck and get an amazing view of the beautiful West Maui mountains from the water. In fact you can ride up top anytime you like during the trip.

Don't miss the chance to explore Maui's underwater world the easy way!