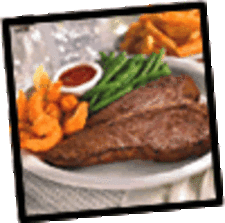 Maximum price per person Price:
$20.00
-
Members Price:
$15.00
Denny's® is the most recognized name in family dining providing good food and service for more than 50 years. With approximately 1,500 restaurants across America, Denny's is the largest full-service family restaurant chain in the United States.

Denny's restaurants offer a casual dining atmosphere and moderately priced meals served 24 hours a day at most locations. Denny's is best known for its breakfasts served around the clock, including the popular Meat Lover's Breakfast and Original Grand Slam®. The lunch and dinner menu are increasing in popularity with a variety of cravable burgers, sandwiches, salads and other entrees. Denny's remains dominant for the late-night crowd with an emphasis on appetizers and desserts.