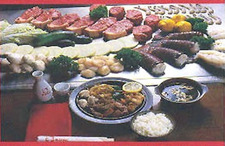 Maximum price per person Price:
$41.95
-
Members Price:
$33.56
Enjoy the exciting art of teppanyaki cooking. Knife-wielding chefs prepare delicious steak, seafood and chicken entrees right at your table. Oku's famous sushi will complete your Japanese dining experience. Sushi bar is open from 5:30 to 11:30 pm nightly.

Join us for dancing and Karaoke with Toddy Lilikoi every Friday & Saturday from 9:30 pm - closing.