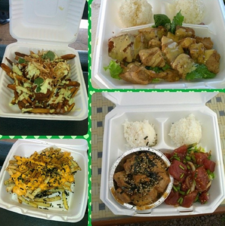 Maximum price per person Price:
$12.00
-
Members Price:
$12.00
Like Poke? Maui's Best Plate Lunch Wagon. Located in Central Maui at 591 Haleakala Highway. Across from Costco Gas Station. Right next to the Kahului Airport. Eat what all the locals eat.
Always offering fresh fish, fresh greens and the secret sauce. Daily Specials are available and Like Poke usually closes by 1:00 PM.

Daily Menu usually consists of:
~Ahi/Mahi Katsu
~Fresh poke bowls
~Fried ahi bone
~Garlic ahi belly
~Baked mahi mahi dynamite
~Fried poke
~Katsuyaki
~Hippy food

Specials include the Like Poke famous Krissspy fried tako, baked salmon, shoyu chicken, and hamburger steak.

Call your order in at 808-757-8400 and be sure to get there before Noon.

Take your coupon to Danny and the gang at Like Poke to receive a $1 off your purchase!!!