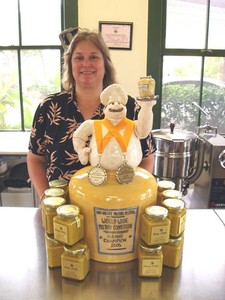 Maximum Price Per Person Price:
$36.00
-
Members Price:
$34.00
Aunty Lilikoi's Passion Fruit Wasabi Mustard was named Grand Champion of the 12 th Annual Napa Valley Mustard Festival?s Worldwide Mustard Competition in California.
The Competition was one of the highlights of the six-week-long mustard festival which celebrates the fine foods, wines, and art of Wine Country. The various events of the annual festival are enjoyed by tens of thousands of attendees.

The competition entries consisted of 303 mustards from 19 states and four countries, and included entries from notable mustard makers such as Grey Poupon, Beaverton Foods, Morehouse Foods and Gulden's.