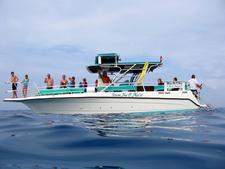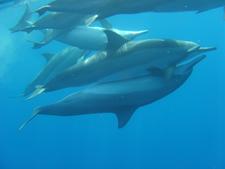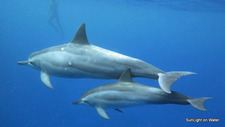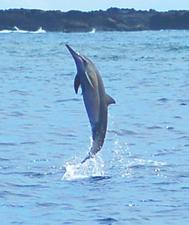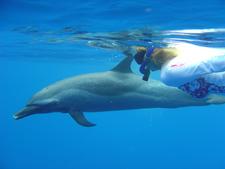 Adults Price:
$135.00
-
Members Price:
$115.00
Children 12 and under Price:
$95.00
-
Members Price:
$75.00
CHILD 3 & UNDER Price:
$0.00
-
Members Price:
$0.00
Ride Along/with a swimmer Price:
$65.00 ($70.00 after 05/31/2020)
-
Members Price:
$65.00
Mahalo for choosing SunLight On Water where you will Experience the Magic of swimming with completely free Hawaiian Spinner Dolphins in their natural environment. We are one of the oldest and most experienced Dolphin Swim companies in Hawaii. We've been sharing this experience for over 20 years and have a better than 98% success rate in locating the Dolphins each day.
Enjoy the morning on the Ocean on our comfortable 40' boat. Along the way our staff will share with you the protocols for swimming with free Dolphins. They will also be in the water with you as guides.

DAILY DOLPHIN SWIM - CHECK IN at 7:30 am - 12:00 pm

PROVIDED FOR YOU: All snorkel gear, flotation as needed, fruit, muffins, coffee/water/sodas/juice, and dry snacks. Also included are 10-15 complimentary photos of your trip.

BE SURE TO:
WEAR: Bathing suit and cover up clothing.
BRING: Towel, sunscreen REEF SAFE ONLY..please, sunglasses, and shirt/jacket/sweatshirt if you become cool or have too much sun, etc.

Any valuables brought on board such as cell phones, cameras, etc are at your own risk. Dry storage is available.

Please see website for No Dolphin Policy.
Accommodation Information:
(1 - 4 PASSENGERS): Notification of cancellation must be received by telephone at least 48 HOURS prior to departure time to receive a full refund. Any cancellation given with less than 48 Hours remaining before departure time will not be offered a refund. (5 - 10 PASSENGERS): Notification of cancellation much be received by telephone at least 72 HOURS prior to departure time to receive a full refund. No refund will be offered with less than 72 Hours remaining before departure time. (10 + PASSENGERS): Cancellations must be made 7 DAYS prior to departure date to receive a full refund. No refund will be offered with less than 7 days remaining before departure date. (PRIVATE CHARTERS): Cancellations must be made at least 2 WEEKS prior to departure date to receive a full refund. No refund will be offered with less than 14 days remaining before departure date. ~~~~~~~~~~~ * ALL TOURS ARE SUBJECT TO A SIX GUEST MINIMUM TO RUN.*