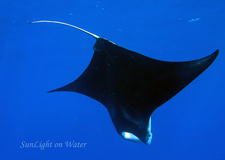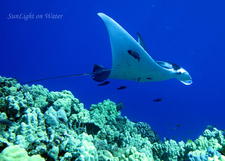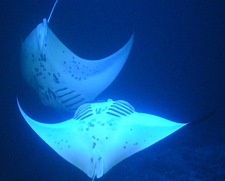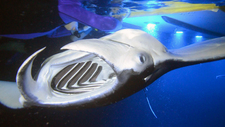 Adults Price:
$102.00
-
Members Price:
$87.00 ($92.00 after 05/31/2020)
Children 12 and under Price:
$85.00
-
Members Price:
$70.00
CHILD 3 & UNDER Price:
$0.00
-
Members Price:
$0.00
Ride Along/with a swimmer Price:
$40.00 ($45.00 after 05/31/2020)
-
Members Price:
$40.00
Rider NOT with anyone swimming Price:
$51.00
-
Members Price:
$0.00
Imagine having a Manta Ray with up to an 17' wing span come within inches of you!! Join Sunlight on Water for this exhilarating experience.

Manta Rays are beautiful sea creatures that live in our warm tropical waters. They are completely harmless -- they have No teeth, No stingers, No barbs. The Manta Ray is one of Hawaii's most fascinating and stunningly beautiful sights.

NIGHTLY MANTA SNORKEL: Time changes all during year with sunset. We ask that all participants be at check-in 15 minutes prior to departure. SEE CURRENT CHECK-IN TIMES BELOW.

PROVIDED FOR YOU: All snorkel gear, wet-suits, flotation as need, water/sodas/juice, light snacks, warm water rinse, and hot chocolate when you come out of the water. Also included are 10-15 complimentary photos of your trip.

BE SURE TO:
WEAR: Bathing suit and cover up clothing.
BRING: Towel, sunglasses, and shirt/jacket/sweatshirt for your return ride to the Harbor.

Valuables brought on board such as cell phones, cameras, etc are at your own risk.

No Manta Policy: We do NOT guarantee Mantas, however should there be no Mantas on your night, we do invite you back at no cost based on availability. If we cannot get you out during your current stay, we will extend the return offer to your next visit. There is no expiration date. Offer is non-transferable. No Refunds will be given for No Mantas....no exceptions.

IF YOU HAVEN'T ALREADY BOOKED A MORNING DOLPHIN SWIM WITH US, CALL US AT +1-808-896-2480 TO RESERVE AT THE COMBO RATE OF $110 ADULT/$70 CHILD 12 AND UNDER (TAXES INCL).





Adults:

Children 12 and under:

CHILD 3 & UNDER:

Ride Along/with a swimmer:

Rider NOT with anyone swimming:
Accommodation Information:
(1 - 4 PASSENGERS): Notification of cancellation must be received by telephone at least 48 HOURS prior to departure time to receive a full refund. Any cancellation given with less than 48 Hours remaining before departure time will not be offered a refund. (5 - 10 PASSENGERS): Notification of cancellation much be received by telephone at least 72 HOURS prior to departure time to receive a full refund. No refund will be offered with less than 72 Hours remaining before departure time. (10 + PASSENGERS): Cancellations must be made 7 DAYS prior to departure date to receive a full refund. No refund will be offered with less than 7 days remaining before departure date. (PRIVATE CHARTERS): Cancellations must be made at least 2 WEEKS prior to departure date to receive a full refund. No refund will be offered with less than 14 days remaining before departure date. ~~~~~~~~~~~ * ALL TOURS ARE SUBJECT TO A SIX GUEST MINIMUM TO RUN.*