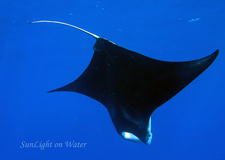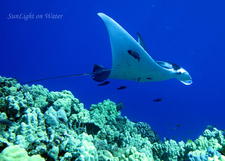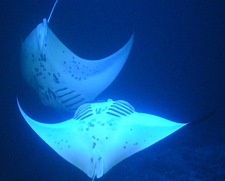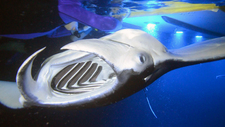 Adults Price:
$102.00
-
Members Price:
$90.00
Children 12 and under Price:
$85.00
-
Members Price:
$70.00
Ride Along/with a swimmer Price:
$45.00
-
Members Price:
$40.00
Rider NOT with anyone swimming Price:
$51.00
-
Members Price:
$0.00
MAHALO FOR CHOOSING SUNLIGHT ON WATER!
What we provide: Snorkel, mask, flotation if needed, and short wetsuits (optional not required). We also offer beverages and a variety of dry snacks. 10-15 photos of your trip!

What to Bring: Towel and light jacket/sweater for the ride home

Where: Honokohau Harbor.

When: CHECK-IN 5:15 PM
5:30 pm – 8:30 pm (Time changes during the year with sunset time)

FYI: IF YOU DO NOT HAVE A RENTAL CAR, PLEASE BOOK YOUR UBER OR TAXI WELL IN ADVANCE AS SERVICES ARE LIMITED AT THIS TIME.

Imagine having a Manta Ray with up to an 17' wing span come within inches of you!! Join Sunlight on Water for this exhilarating experience. Manta Rays are completely harmless -- they have No teeth, No stingers, No barbs. The Manta Ray is one of Hawaii's most fascinating and stunningly beautiful sights.

COVID-19 UPDATES AND CHANGES:

FOR ALL TOURS:
WE CONTINUE TO PROVIDE MASKS AND SNORKELS, BUT YOU ARE WELCOME TO BRING YOUR OWN. WE OF COURSE STERILIZE ALL OF OUR MASKS AND SNORKELS AFTER EACH TOUR.

YOU ARE ALSO WELCOME TO BRING YOUR OWN FOOD AS WE ARE LIMITED IN WHAT WE CAN OFFER AT THIS TIME.
NO ALCOHOL ALLOWED. WE WILL PROVIDE SODAS/WATER, ASSORTED PRE PAKCAGED SNACKS.

FOR YOUR SAFETY AND THAT OF OUR CAPTAIN AND CREW:
DUE TO THE COVID 19 SITUATION, WE ARE REQUIRED TO FOLLOW THE SAFETY PROTOCOLS ESTABLISHED BY THE CDC, STATE AND COUNTY OF HAWAII AND ALSO THE RECENT FEDERAL MANDATE AS COMMERCIAL BOATS ARE UNDER THE JURISDICTION OF THE USCG.

WE HAVE ESTABLISHED ADVANCE CLEANING, SANITIZING AND SAFETY PROCEDURES TO PREVENT THE SPREAD OF COVID-19.

1...WE WILL TAKE TEMPERATURES OF ALL PASSENGERS BEFORE THEY BOARD. ANYONE PRESENTING WITH A TEMP OF 100.4 OR HIGHER WILL NOT BE ALLOWED TO BOARD THE VESSEL.

2...ALL GUESTS AND CREW ARE REQUIRED TO WEAR FACE MASKS AT CHECK IN AND ON BOARD, UNLESS EATING OR PREPARING TO PUT ON SNORKEL MASKS AND SNORKEL.

3...PLEASE BRING A FACE MASK WITH YOU. WE DO HAVE A FEW DISPOSABLE ONES SHOULD YOU FORGET YOURS.
WE HAVE A FABRIC LOGO MASK AVAILABLE FOR PURCHASE FOR $7.

4..WE WILL HAVE HAND SANITIZER IN PLACE BEFORE YOU BOARD AND ALSO WILL HAVE SANITIZER ON THE BOAT FOR YOU TO USE THROUGHOUT YOUR TOUR.

5....THERE IS A LINK PROVIDED ON YOUR RESERVATION CONFIRMATION TO COMPLETE WAIVERS INCLUDING THE NEW COVID-19 WAIVER. PLEASE TAKE THE TIME TO COMPLETE THESE BEFORE YOU ARRIVE AT THE BOAT TO REDUCE HANDLING OF PAPERS, CLIPBOARDS, PENS, ETC.

WE APPRECIATE YOUR ADHERENCE AND KOKUA (CO-OPERATION)
TO THESE CHANGES AND NEW POLICIES.

IF WE ALL DO OUR PART WE CAN REMAIN HEALTHY AND ENJOY OUR TIME TOGETHER ON THE OCEAN AS WE MAKE OUR WAY THRU THESE UNPRECEDENTED TIMES TO RECOVERY.

Valuables brought on board such as cell phones, cameras, etc are at your own risk.

NO MANTA POLICY:WE DO NOT GUARANTEE MANTAS. NO REFUNDS WILL BE GIVEN FOR NO MANTAS....NO EXCEPTIONS. PLEASE SEE WEBSITE FOR UPDATED DETAILS ON NO MANTA POLICY.

IF YOU HAVEN'T ALREADY BOOKED A MORNING DOLPHIN SWIM WITH US, CALL US AT +1-808-896-2480 TO ALSO RESERVE THE DOLPHIN SWIM AT A REDUCED RATE.

Accommodation Information:
(1 - 4 PASSENGERS): Notification of cancellation must be received by telephone at least 48 HOURS prior to departure time to receive a full refund. Any cancellation given with less than 48 Hours remaining before departure time will not be offered a refund. (5 - 10 PASSENGERS): Notification of cancellation much be received by telephone at least 72 HOURS prior to departure time to receive a full refund. No refund will be offered with less than 72 Hours remaining before departure time. (10 + PASSENGERS): Cancellations must be made 7 DAYS prior to departure date to receive a full refund. No refund will be offered with less than 7 days remaining before departure date. (PRIVATE CHARTERS): Cancellations must be made at least 2 WEEKS prior to departure date to receive a full refund. No refund will be offered with less than 14 days remaining before departure date. ~~~~~~~~~~~ * ALL TOURS ARE SUBJECT TO A SIX GUEST MINIMUM TO RUN.*