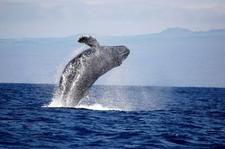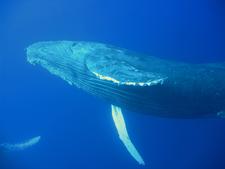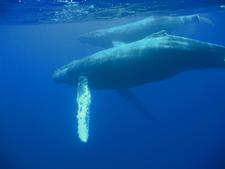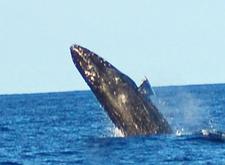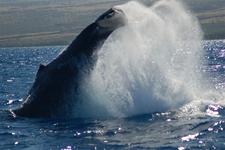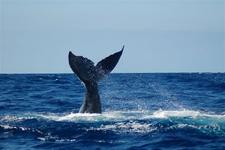 Adults Price:
$90.00
-
Members Price:
$80.00
Children 12 and under Price:
$80.00
-
Members Price:
$70.00
Come Whale Watching with SunLight On Water and see the Humpback Whales, the most majestic creatures on earth. Fully grown, they can be 40-45 feet long, and weigh 80,000 pounds! The Hawaiian Island chain constitutes one of the world's most important habitats for the endangered North Pacific Humpback Whale and offers some of the best Whale watching in the world. Hawaii is the only place in the U.S. where Humpbacks breed, calve, and nurse their young. Scientists estimate that two-thirds of the entire North Pacific population (approximately 4,000-5,000 Whales) migrate to Hawaiian waters each winter, where boats like ours carefully navigate amongst them providing unrivaled Whale watching opportunities. Our on-board naturalist will share with you many interesting facts about the Whales.

WHALE WATCH: 12:30 pm - 2:30 pm Check-in 12:15 pm | January, February and March only.

PROVIDED FOR YOU: Water, sodas and light snacks. Also included are 10-15 complimentary photos of your trip.

BE SURE TO:
BRING: Hat, sunscreen (no oils or sprays...ONLY REEF-SAFE LOTIONS NOW ALLOWED IN HAWAII), sunglasses, camera, and shirt/jacket/sweatshirt if you become cool or have too much sun, etc.

COVID-19 POLICIES:

FOR YOUR SAFETY AND THAT OF OUR CAPTAIN AND CREW:
DUE TO COVID 19 WE ARE REQUIRED TO FOLLOW THE SAFETY PROTOCOLS ESTABLISHED BY THE CDC, STATE AND COUNTY OF HAWAII AND ALSO THE RECENT FEDERAL MASK MANDATE AS COMMERCIAL BOATS ARE UNDER THE JURISDICTION OF THE USCG.

WE HAVE ESTABLISHED ADVANCE CLEANING, SANITIZING AND SAFETY PROCEDURES TO PREVENT THE SPREAD OF COVID-19.

1...WE WILL TAKE TEMPERATURES OF ALL PASSENGERS BEFORE THEY BOARD. ANYONE PRESENTING WITH A TEMP OF 100.4 OR HIGHER WILL NOT BE ALLOWED TO BOARD THE VESSEL.

2...ALL GUESTS AND CREW ARE REQUIRED TO WEAR FACE MASKS AT CHECK IN, ON BOARD AND WHILE DISENBARKING UNLESS EATING OR PREPARING TO PUT ON SNORKEL MASKS AND SNORKEL.

3...PLEASE BRING A FACE MASK WITH YOU. WE DO HAVE A FEW DISPOSABLE ONES SHOULD YOU FORGET YOURS.
WE HAVE A FABRIC LOGO MASK AVAILABLE FOR PURCHASE FOR $7.

4..WE WILL HAVE HAND SANITIZER IN PLACE BEFORE YOU BOARD AND ALSO WILL HAVE SANITIZER ON THE BOAT FOR YOU TO USE THROUGHOUT YOUR TOUR.

5....THERE IS A LINK PROVIDED ON YOUR RESERVATION CONFIRMATION TO COMPLETE WAIVERS INCLUDING THE NEW COVID-19 WAIVER. PLEASE TAKE THE TIME TO COMPLETE THESE BEFORE YOU ARRIVE AT THE BOAT TO REDUCE HANDLING OF PAPERS, CLIPBOARDS, PENS, ETC.

6...PHOTOS:
WE HAVE RESUMED TAKING 10-12 PHOTOS ON THE BOAT AND IN THE OCEAN. THESE ARE AVAILABLE TO YOU AT NO COST AND CAN BE FOUND ON OUR FACEBOOK PAGE FOR YOU TO PRINT OF DOWNLOAD.

WE APPRECIATE YOUR ADHERENCE AND KOKUA (CO-OPERATION)
TO THESE CHANGES AND NEW POLICIES.

IF WE ALL DO OUR PART WE CAN REMAIN HEALTHY AND ENJOY OUR TIME TOGETHER ON THE OCEAN AS WE MAKE OUR WAY THRU THESE UNPRECEDENTED TIMES TO RECOVERY.



Accommodation Information:
(1 - 4 PASSENGERS): Notification of cancellation must be received by telephone at least 48 HOURS prior to departure time to receive a full refund. Any cancellation given with less than 48 Hours remaining before departure time will not be offered a refund. (5 - 10 PASSENGERS): Notification of cancellation much be received by telephone at least 72 HOURS prior to departure time to receive a full refund. No refund will be offered with less than 72 Hours remaining before departure time. (10 + PASSENGERS): Cancellations must be made 7 DAYS prior to departure date to receive a full refund. No refund will be offered with less than 7 days remaining before departure date. (PRIVATE CHARTERS): Cancellations must be made at least 2 WEEKS prior to departure date to receive a full refund. No refund will be offered with less than 14 days remaining before departure date. ~~~~~~~~~~~ * ALL TOURS ARE SUBJECT TO A SIX GUEST MINIMUM TO RUN.*