Phone: (808) 667-6244
Year Established: 1999
ACTIVITIES: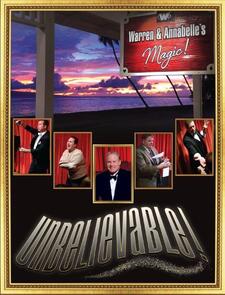 We've heard from so many of you that you are missing Maui and Warren & Annabelle's…so…we're coming to you!

Through the magic of ZOOM…Warren & Annabelle's UNBELIEVABLE! is coming into your home…LIVE! Gather your family and friends for a fun-filled evening of sensational magic and comedy!

* Each one hour and twenty minute show features TWO world-class performers interacting with you, our home audience, in real-time on ZOOM.
* Magicians include Dana Daniels, John Shryock, Chris Blackmore & John George.
* Your host for the show is Warren. Visit our Who's On Stage page for all bios.
* Just like our sold-out shows on Maui, each live show includes UNBELIEVABLE! mysteries and miracles.
* Be prepared to participate – magic will happen right in your own hands!
* The number of screens is limited. Reserve today! Click the BUY YOUR TICKET below for Warren & Annabelle's LIVE show…it will be UNBELIEVABLE!

Our show features only clean material. For the first time in history, Warren & Annabelle's show is available to all ages! (Recommended age: 12+.) Guests 16 and under must be accompanied by an adult.



SHOWTIME: 6 pm PST

PRICE PER ONE SCREEN: $65
It's up to you how many guests in your home you want to join you!

Technical Requirements

* Guests must have a high speed internet connection that supports ZOOM.
* For the best experience, update to the most recent version of ZOOM.
* Guests must also have a computer with a working camera and microphone.
* Be prepared to share your video at all times.

More Info:

* During the show you may have the opportunity to interact with our performers.
* All guests must check-in to the Virtual Waiting Room at 5:30pm PST.
* Please be prompt for your performance.
* All sales are final for this show.

Exclusive Private Shows for Corporate Groups are available. Contact Lisa Gibson for more information at Lisa@WARRENandANNABELLES.com
Cancellation Policy:
All sales are final. No cancellations, refunds, or rescheduling for the virtual shows.