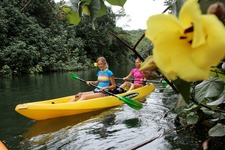 Take a scenic paddle and tour a Hawaiian Village with Alii Kayaks! Your Kayak Adventure is a leisure 4 mile round-trip paddle through a scenic valley once reserved for the Royal Family or Alii. The mid tour destination is the Kamokila Hawaiian Village where our guides will share the native lifestyles from centuries ago. See distant views of the surrounding mountain ranges of Mount Waialeale the wettest spot on earth, Mount Kapu and visit the famous Sleeping Giant. This 3 hour Kayak Adventure allows you to immerse yourself in all the fun things that make Kauai so special!
Accommodation Information:
If you cancel 24 hours or more prior to the date of the event, you will receive a full refund less a 10% cancellation fee. If you cancel within 24 hours for any reason, you will receive no refund. If Alii Kayaks cancels due to inclement weather conditions, you will receive a full 100% refund.