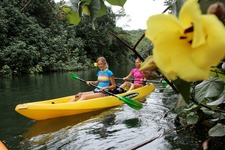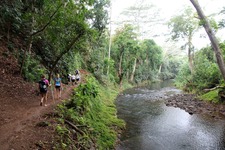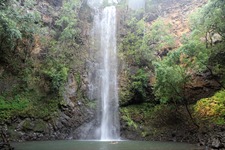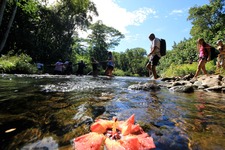 Take a 5-Hour Kayak/Hike and see a Secret Waterfall! Among all the rivers available to adventure seekers, Wailua River Valley seems to be the most special. This is an easy going paddle on a Class Zero river combined with a moderate to strenouous hike through a rainforest, wading through streams, traversing muddy trails; a definite rock solid adventure.

What to expect: Approximately 4 miles of easy kayaking, about 1.5 miles of moderate to strenuous hiking. TRAIL CONDITIONS VARY AND MAY BECOME EXTREMELY MUDDY WITHOUT ADVANCE NOTICE!
Accommodation Information:
If you cancel 24 hours or more prior to the date of the event, you will receive a full refund less a 10% cancellation fee. If you cancel within 24 hours for any reason, you will receive no refund. If Alii Kayaks cancels due to inclement weather conditions, you will receive a full 100% refund.