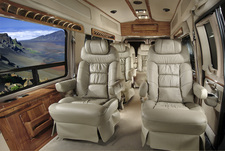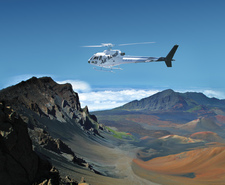 HALEAKALA SUN-TREK
Awesome Haleakala Adventure

* Exhilarating A-Star Jet helicopter, first flight of the day, to the Summit of Haleakala at over 10,000 feet.
* Full sunshine will enhance this volcano moon-like crater as you photograph Maui's #1 scenic natural wonder.
* Photograph stunning multi-island views, Science City and the World's largest Dormant Volcano!
* Makawao for shopping and touring Viewpoints Gallery and Hot Island Glass plus more.
* With only 6-8 guests per Limo-Van, this full-day tour is narrated by our Hawaii State Certified Guide.
* No-host Breakfast in Pa'ia.
* Tour and Tasting of Award-Winning Goat Cheeses at Surfing Goat Dairy
* Tour and Tasting of Triple Gold Award-Winning Ocean Vodka at their Organic Farm and Distillery plus a scrumptious Pacific Cuisine lunch. Vegetarian / Vegan / Gluten-free lunch entree available
* Complimentary Resort / Hotel / Condo / Harbor pick-up.
* Suggested Retail Price – $325.00 + tax and fees

* When you Buy Direct – You Save 15% (Over $50 per person)
* Buy Online or Call Temptation Tours
Toll Free: 1-800-817-1234
On Maui: 1-808-877-8888
Email: Reswervations@TemptationTours.com

* Tour Operates Daily: From 6:00 AM until 3:30 PM

Pacific Rim Cuisine Luncheon Menu: Southpointe Grilled Herb Marinated Chicken Breast, Kula Mix Organic Greens, Roasted Corn & Black Bean Relish, Buttermilk Ranch Dressing and a Roasted Garlic Tortilla and also Pacifica Lightly Blackened 7 Spice Seared Ono, Kula Organic Green Leaf Lettuce, Black Olive & Caper Relish, Wasabi Aioli Spread and a Sundried Tomato Tortilla, Fresh Garden Vegetable Pasta Salad with Basil Pesto Vinaigrette, Chilled Maui Gold Pineapple and Volcano Triple Chocolate Fudge Brownie with Toasted Hamakua Grown Macadamia Nuts.
Vegetarian Entrée Option: Fresh Lettuce Wrap filled with Grilled Veggies.
Luncheon elegantly served on linen tablecloths with linen napkins, crystalline plates and flatware.


Accommodation Information:
I accept that to cancel any tour purchased online and receive my authorized cancellation number, I must call 1-800-817-1234 by 7 AM (Hawaii Standard Time), no less than 3 days prior to tour date, in order to be eligible for a refund. No refund for no shows.