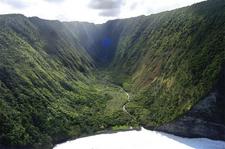 Adult Price:
$259.00
-
Members Price:
$217.56
Child Price:
$259.00
-
Members Price:
$217.56
On Oahu, Waikiki Beach is just the beginning. In one amazing tour, you'll experience the phenomenal scenery of this Island's hidden rain forests, lush valleys, and stunning historic sights. You'll glide over the vivid turquoise coral reefs of Waikiki, look down into the extinct volcano of Diamond Head, view crescent-shaped Hanauma Bay, white-sand Waimanalo beach, Chinaman's Hat and the beautiful coral formations in Kaneohe Bay. You'll soar over the cliffs of the Nuuanu Valley rainforest, then fly along the breathtaking coastline to legendary Sacred Falls and the panoramic Dole Pineapple Plantation. Your Blue Skies of Oahu adventure will also include sweeping views of Pearl Harbor, the Arizona Memorial and the Battleship Missouri.
Accommodation Information:
You can cancel or change your reservation at no charge if you give us 24 hours notice prior to your scheduled tour time. Cancelations within 24 hours are assessed a 50% cancellation charge. No Shows are assessed a 100% cancellation charge. Wheelchair accessible on Eco-Star flights, conditional, please call to clarify.