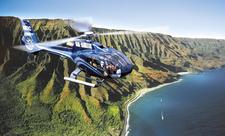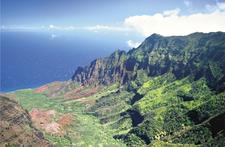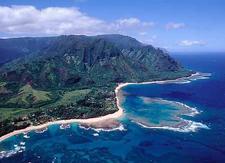 Adult Price:
$289.00
-
Members Price:
$242.76
Child Price:
$289.00
-
Members Price:
$242.76
Treat yourself to a first-class ECO Adventure over the Garden Isle of Kauai in the incredible new American Eurocopter ECO-Star. This state-of-the-art marvel gives you 23% more interior room, individual Business Class style seats, two-way communication with your pilot, and expansive glass for outstanding sweeping views of Kauai's incomparable natural beauty.

Kauai Helicopter Tours at their finest. Your journey begins with a flight to spectacular Hanapepe Valley, then continues on to Mana Waiapuna, commonly referred to as "Jurassic Park Falls." Next it's up the Olokele Canyon before moving on to eye-popping Waimea Canyon, the famed "Grand Canyon of the Pacific" where you'll explore many hidden waterfalls. Then, the sculptural masterpiece of the Na Pali Coast gives way to the Bali Hai Cliffs, and the pristine blue waters of Hanalei Bay and the Princeville Resort area. Weather permitting, we'll visit Mt Waialeale, the heart of the ancient volcano. This is the wettest spot on earth, with an average rainfall of 450-500 inches annually! Flying into the center of the crater with its 5000-foot walls towering above and its 3000-foot waterfalls surrounding you, is a truly awe-inspiring finish to your ECO Adventure over the Garden Isle. Although tour routes and sights visited may vary according to wind and weather conditions there is no finer Kauai Helicopter Tour available.
Accommodation Information:
You can cancel or change your reservation at no charge if you give us 24 hours notice prior to your scheduled tour time. Cancelations within 24 hours are assessed a 50% cancellation charge. No Shows are assessed a 100% cancellation charge. Wheelchair accessible on Eco-Star flights, conditional, please call to clarify.